My month of July is going to be super full in a good way. While making preparations for the two camps that I will be administering in August, I will be hosting a couple of events for NYC area bloggers; going to Sunnyvale, California for a few days as part of the YAHOO! Mother Board and coordinating a Single Women's sponsored event at my church for 200+ women. Whew! That doesn't mean that I won't be taking time out to enjoy the wonderful city that I live in though. Below are ten things that I put on my personal "Summer Fun" list a couple of weeks ago: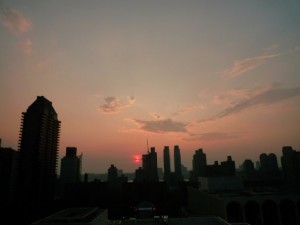 1. See Despicable Me with the family. (Check.)
2. Go golfing at Flushing Meadows Mini Golf. Michael has been wanting to go golfing and this course is near where we live, so it should be fun.
3. Visit The Highline. I have heard several parents rave about this newly developed area. A couple of family friends live nearby, so that will make a great playdate.
4. Take advantage of some of the amazing FREE events that take place in the city all summer long. There is absolutely no reason to be stuck inside during the summer. Back when Mom in the City was a website many moons ago, I had compiled a great list of FREE things to do in the city (Beaches & Pools, Bike Trails, Bookstores, Gardens & Zoos, Libraries, Miscellaneous, Museums, Nature Centers, Parks & Playgrounds and Sports). It's still online if you go here. Simply click on each category to the left (don't click the top tabs). It's still a really great resource! (Since I haven't updated it, definitely call ahead before you go to one of the spots.)
5. Visit Coney Island with the family. It's less than 2 hours away and I want to go to the new Luna Park with the family. I think that the kids will enjoy the kiddie rides.
6. Visit Imagination Playground when it opens later this month. It just so happens that I will be hosting a mom blogger event there, so this will be an easy one to complete!
7. Visit Upstairs at the Kimberly. (Check.) I still might want to go back with a bunch of my girlfriends though.
8. Watch Toy Story 3. Based on the reactions of friends who have already seen the movie, I will be prepared to cry.
9. Have the kids watch the new Karate Kid movie. (Check. They saw it today with Reggie and loved it. Of course, they came home and wouldn't let me rest until we "karate-fought" for about half an hour. Thanks Jackie Chan!)
and
10. Visit the weekend Carnival at Bowlmor. For some reason, it just looks like a lot of fun and I think that my family will enjoy it.
I will stop there for now. We won't be doing a whole lot of family travel this summer because I need to stay nearby for camp work. The great thing though is that the entire family will probably get to go to the camps (one in upstate New York, the other in Pennsylvania) with me in August. My guys will love that!

That's it for me. How about you? What are you looking forward to doing this summer?