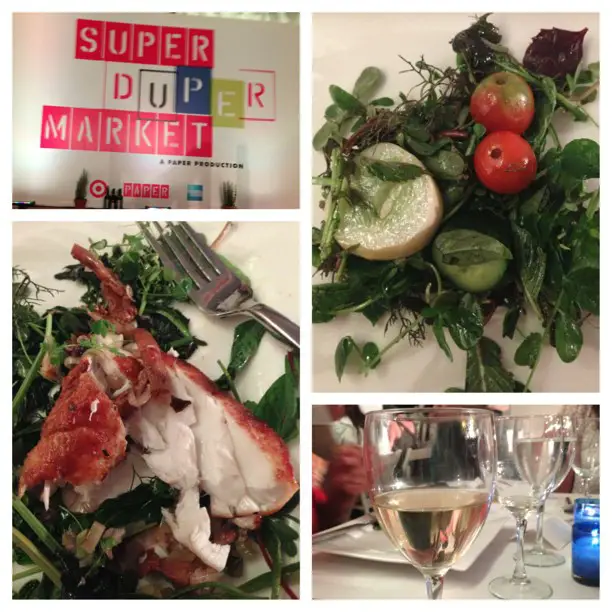 My friend Yemisi and I attended a special "TwEAT Dinner" at PAPER's Super(Duper)Market last Friday night. The  pop up food market was closed, but I made note to attend the event next year during market hours. There were just so many interesting offerings. In addition to seeing some of the sections at the event, I saw a list of many of the participants on PAPERS's You're Invited to The Super(Duper)Market! post.
Anyway, the private event was co-hosted by PAPER Magazine and American Express Blue Cash.  American Express hosted the dinner to celebrate their Blue Cash Preferred Card and the Blue Cash Everyday Card.  I have fond associations with American Express, because they were my first business card company. (I still have an American Express business card almost a decade later!)  Anyway, these Blue Cash cards allow cardmembers to get up to 6% cash back at supermarkets in the form of Reward Dollars that can be redeemed for statement credits, gift cards and merchandise.
The dinner featured a menu from San Francisco-based chef, Leif Hedendal. Mr. Hedendal is often described as a "forager" chef and I can see why. It was a very "earthy" meal with a wide variety of plants and herbs.  The local striped bass, mushrooms and baby potatoes were my favorite parts of the meal.
The dessert "Tumblr-berry galette with crème fraiche & lemony herbs" was a light, yet surprisingly delicious end to the meal. It was basically sweet blueberries with a dollop of crème fraiche on the side and a garnish of a lemony herb (i.e. lemon basil).  Note to self: sweet fresh berries (or a bit of sugar added to some berries if they aren't sweet enough) + crème fraiche  + a lemon basil garnish = a simple yet elegant end to an earthy meal.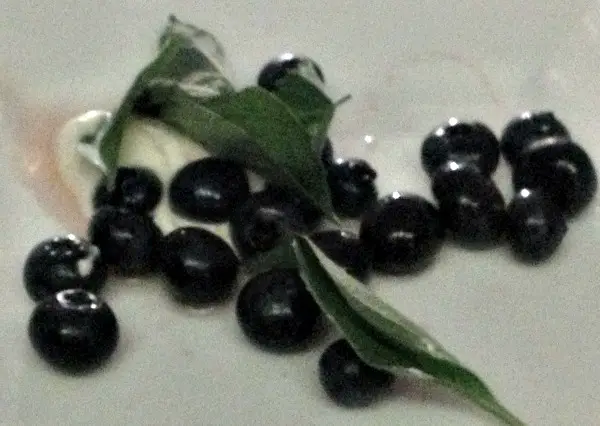 In any event, I enjoyed being able to eat and drink with Yemisi as well as fellow bloggers Carol and Victoria. It was also great to meet and chat with Shay,  one of the PR people for The Original Dark Horse wines that were served with the meal.  I am not much of a wine drinker, but Carol and Shay were educating me about wines.  I didn't quite taste the "baked apples and pears" notes that they mentioned in regards to the Chardonnay that was served, but I enjoyed the taste anyway :-).  Thanks to PAPER magazine and American Express for providing a night of good food, good wine and good conversation. Al in all, it was a SUPER (DUPER) Friday night out with friends.
{Post image courtesy of my friend Yemisi, used with permission}
If you enjoyed this post, don't miss future ones! Please be sure to sign up for my email updates. (Also, if you're on Pinterest, let's follow each other.)