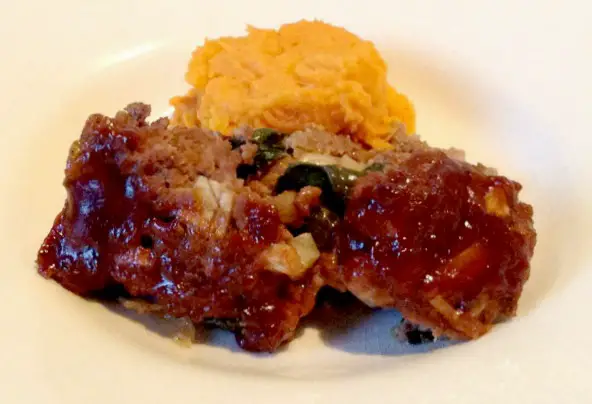 Barbecue meatloaf is a dinner favorite at our home. Sometimes I serve it in loaf form. When I'm pressed for time, I usually shorten the baking time by making meatloaf muffins. Another thing that I do sometimes is to put spinach in between layers of the meatloaf mixture. Once the meat/veggie mixture is ready, all I have to do is add a carb and dinner is ready.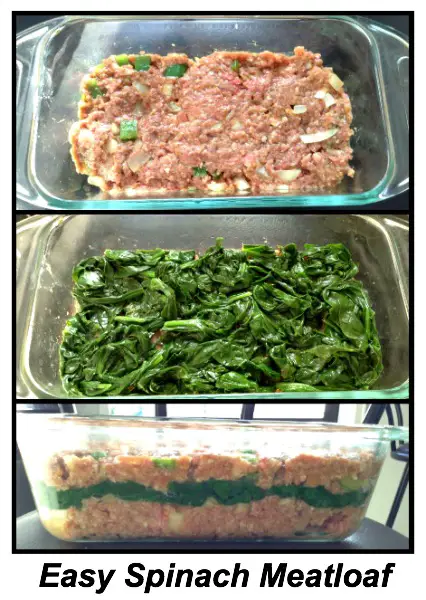 Super Easy Spinach Meatloaf Recipe
Ingredients:
½ medium onion, chopped
½ medium green pepper, chopped
1 lb of ground beef
1 slice of the end of a bread loaf, crumbled up (or bread crumbs)
1 egg
½ cup barbecue sauce (1/4 cup for the mixture; ¼ cup for the topping)
Seasonings, to match your tastes (I like to include 1/2 an onion soup mix pack with my other seasonings – seasoned salt, black pepper, onion powder and garlic powder.)

Directions:
1. Heat the oven to 375 degrees.
2. Chop 1/2 an onion and 1/2 a green pepper. Sauté them together in a frying pan until they start to get tender – approximately 3 minutes. (You can use the vegetables own "juice" or a little olive oil to sauté them.)
3. In a large bowl, use your hands to mix together the vegetables, beef, bread, egg, ¼ cup of the barbecue sauce and the additional seasonings.
4. Place half of the meat mixture into an ungreased 9" x 5" loaf pan. Place the spinach on top of the meat mixture. Then, place the remaining meat mixture on top of the spinach.
5. Bake the meatloaf in the heated oven for 45 minutes.
6. Remove the loaf pan from the oven and drain any excess liquid.
7. Cover the meatloaf with the additional ¼ cup of barbecue sauce.
8. Place the loaf pan back into the heated oven and bake the meatloaf for an additional 15 minutes before removing the dish from the oven.
Recipe Notes:
-I prefer fresh spinach, but you can use 10 ounces of frozen spinach instead. You just need to cook it according to the directions on the package. Once it is cooked, place it in a colander and rinse it with cold water. Press out any extra water before using the spinach as a meatloaf layer.
-I try to let the meatloaf set for up to ½ an hour before serving, so that it will be firm, but that is not necessary.