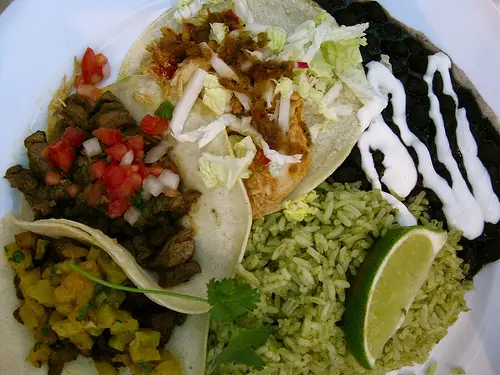 Earlier this year, I realized that I was late to the game in regards to implementing taco dinner nights as a dinner staple. Now, I had often served both hard and soft tacos for gatherings of family and friends at our home. However, I never made tacos for dinner for my three guys until my husband Reggie had casually asked why I never made tacos for dinner. I replied that I had just never thought of it. What was I thinking? Tacos are so quick (30 minutes or less) and easy to make. They are also great because you can make them as healthy as you choose.
A reader recently asked, "Can you do some quick meals for busy families that kids (actually) want to eat?" I immediately thought "tacos"! Both of my kids love them and they can be adapted to the pickiest of eaters. I'm not going to give you the recipe for the ground meat for tacos. You can just follow the instructions on the box. (Basically you brown your meat; add water and the taco seasoning to the meat; bring it to a boil and let it simmer for a few minutes.) Rather, I will share some ways that I have found to make taco night even healthier.
-Shells or tortillas: The packages that you find in your local store might be filled with ingredients that you can't pronounce and don't want to feed your family. The good news is that you can make your own tortillas (of course that would increase your prep time). Jennifer at In Jennie's Kitchen has a great recipe for homemade corn tortillas on her site.) Another option is to buy more natural brands of hard or soft taco shells at stores like Trader Joe's (who has some great whole wheat flour tortillas) or Whole Foods. If you're gluten free/watching your carbs, you can just skip this part altogether and use your greens to make a vegetable wrap "taco".
-Meat/Meat Substitutes: Don't just use "beef" in your tacos. In fact, we hardly ever use beef for our tacos. Rather, ground turkey meat and chicken are our preferences. Lean meat, poultry, fish and shellfish are all great options too. If you are trying to minimize eating meat or are vegetarian, beans and tofu are also good choices. (Of course, tofu wouldn't fly at my house. I'd have a better chance with meaty tasting mushrooms!)
-Vegetable Toppings: Pile them on! Instead of regular iceberg lettuce, try some more nutritious greens – romaine and spinach are a couple of our favorites. Tomatoes and onions are also staples at my home for taco night, but you can always chop up any additional veggies that your kids enjoy. Kids tend to like to create things, so think of their taco shell as a blank canvas. (Personally, I find that easier to do with the soft tacos than with the hard taco shells.)
-Spices and Sauces: Like with the shells, you can make homemade taco seasoning and taco sauces or seek out healthier options than the standard grocery store packages. (Rachel of A Southern Fairy Tale has a great homemade taco seasoning recipe on her site.)
-Dairy/Dairy Substitutes: I must admit that I'm usually an "all or nothing" type of eater. I'm not a big dairy fan, but when I have cheese or sour cream, I have the real thing! We don't really like sour cream (unless it's a baking ingredient), so we don't put it on our tacos. We do sprinkle a variety of cheeses (Mexican blend) on them though. Fat free cheese and sour cream and soy cheese are some healthy options for your family though.
So, am I really the last mom on earth to include taco night as part of their dinner meal rotations? Oh well…at least it's a tasty addition!
Some of my favorite taco ingredient recipes:
–Slow Cooker Chipotle Chicken
–How to make pico de gallo guacamole
–Crockpot Black Beans
{Image courtesy of katypang.}