Congrats to the winner: Lisa
Update: I found out that the winning tickets are for the Sunday, 4/18 at 5pm performance. As such this giveaway is being extended to Wednesday (4/14) at noon.
Dog lovers are going to be thrilled with this promotion…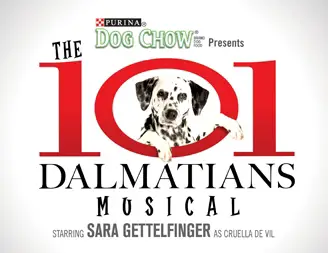 The 101 Dalmatians Musical is beginning today. My kids are so excited that MSG Entertainment invited us to attend the show along with a preshow meet & greet this upcoming Friday. It's their consolation prize. Over Spring Break, we had finally decided to get a small dog until our building's superintendent told us that we could not. It's a "cats only" building (although I see little dogs living here, but that is another story)…
Update: I saw the show with my sons and their fake big sister last Friday. All three of them have been talking about it every since then. They loved taking pictures with Rascal (one of the 12 live dogs) in the show. When I asked them what was their favorite part of the show, they all responded, "Everything!". I thought that it was cute how the "dogs" narrated the show – referring to their human "pets". Everyone especially liked the end where the live dogs did various tricks. Besides the actual show, I especially liked that the dogs used in the show were dogs that had been rescued and that will be put up for adoption after the show. You can learn more on the main 101 Dalmatians Musical site. Meanwhile, here is a photo of my two "rascals" with Rascal.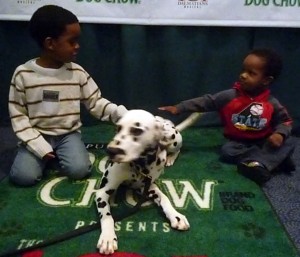 Anyway, I have not seen the show yet, so below is what MSG has to say about it:
The 101 Dalmatians Musical is an experience for the entire family about what it means to be a family, canine and courageous. More than a simple story about good versus bad, the family bands together to overcome every hurdle and hardship in the most difficult times.
Led by the creative team of Jerry Zaks (La Cage Aux Folles, Smokey Joe's Cafe, Everybody Loves Raymond), B.T. McNicholl (Spamalot, Billy Elliot, Cabaret) and Dennis DeYoung (founding member of the rock group Styx, The Hunchback of Notre Dame), The 101 Dalmatians Musical will transport audiences to a slightly topsy-turvy, exciting, and altogether fantastic reality that gives grand license for song, dance and spectacle in a one-of-a-kind show that will leave everyone cheering.
(I'll let you know my opinion of the show after we see it.)
One of you will also get to take her family to see The 101 Dalmatians Musical at The Theater at Madison Square Garden because MSG Entertainment is giving away a four pack of tickets to one lucky Mom in the City reader. The show only runs from April 7th – 18th, so this will be a special 2 day giveaway. To win, let me know what you think it means to be a family in the "Comments" section below by Friday (4/9) at 6pm. Good luck!
Even if you don't win, I have a special 25% off select ticketsdiscount for Mom in the City readers. Simply use the code PAWS at The Theater at Madison Square Garden site. Please note that this offer is only valid on select performances and expires on 4/18. (As an FYI: you can avoid Ticketmaster surcharges by purchasing directly from The Garden Box Office.)