"Darkness cannot drive out darkness; only light can do that." – Martin Luther King, Jr.
This quote was a good way for Lee Daniels to begin "The Butler". The rest of the quote "Hate cannot drive out hate; only love can do that…" is also a helpful reminder, because there is a lot of historical darkness and hate portrayed in this movie. As a Black woman, I experienced a range of emotions – anger, sadness, but also joy and hopefulness – throughout the span of the movie. Overall, though I walked away with a greater appreciation for the survival of the Black family.
Recently, I attended my husband Reggie's family reunion. It was a beautiful thing to see five generations of his family together. After seeing "The Butler", I was reminded of how truly precious it is to see strong Black families. "The Butler" reminded me of how history did not set the Black family up to win. Since I majored in African-American and Women's History and Sociology in college, I "know" the impact of the legacy of slavery. Seeing it brought to life on film is different though.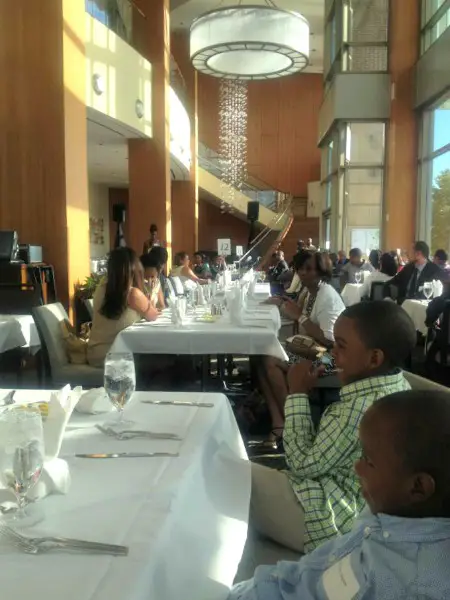 (Spoiler alert!) Within the first ten minutes of the movie (which is loosely based on the life of Eugene Allen, who served eight presidents as a White House domestic), the future butler's mom is raped and his dad is shot dead for (almost) speaking up for her. Cecil Gaines (the butler's character) is allowed to work as a house servant instead of in the cotton fields as a "consolation". As his dad tells him before he dies, "This is his (the white man's) world. We're just living in it." In this pre-Civil Rights Movement era, Cecil is told that the law is against them and not on their side. Any White man could kill them without having to pay a consequence.
Eventually Cecil grows up and sets off to build a life of his own. After saying good-bye to his mom (who goes a bit crazy/never recovers from the rape/murder that Cecil witnesses as a young boy), he walks into his future. He says, "I don't think God meant for anybody not to have a family…" I tend to agree.
After going up North, Cecil becomes a paid server. I took particular delight when the Black man who was training Cecil smacked him for referring to himself as a nigger. "That's a White man's word. It is filled with hate." (Although some Black people have co-opted that word to mean something different today – much like women have done with the "b" word – I tend to agree. For me, words rooted in hate can't just be switched to be terms of endearment…at least not when they are directed towards me!)
Anyway, as a server, Cecil (the amazing actor Forest Whitaker) learns to "see what THEY want and need, to anticipate THEIR needs". He was taught about the two faces that Black people need to wear – the one that was their true self and the one that they show the white world …the one that makes White people not feel threatened. "The room should feel empty when you're in it. You hear and see nothing. You only serve." (Yes, I was taking notes during the movie.☺ I was making note of the things that made me especially grateful that I live today and not during those times!)
While Cecil is busy working crazy hours meeting the wants and needs of others, his family pays the price. While he provides for his wife Gloria (Oprah Winfrey – who does a really great job with the role) and their two sons financially, it takes a while for him to learn that they need his presence…not just his providence. (Fortunately, he learns that valuable life lesson over time.)
Cecil has a lot of conflict with his oldest son Louis (David Oyelowo, another fine actor) because they are both strong-willed – just in different ways. Louis grows up and becomes a member of the legendary Freedom Fighters. I appreciate how Mr. Daniels shows how both father and son are heroes in their own ways. While Cecil is serving at the White House as a butler, Louis is fighting for the rights of Black people to be served in an equitable way. The Freedom Fighter scenes were the hardest for me to watch. When a White woman spits in the face of a Black woman and a White man throws a pot of hot coffee in Louis' face at a lunch counter sit-in, I was livid. (Hate – not skin color – was the real issue though, because there were White people who were being abused right alongside the Black ones as they fought together for desegregation.) My heart broke as the images of Cecil reading to someone else's child was contrasted with his own child being on a bus that is torched by the Klu Klux Klan. (Side note: Have I ever mentioned how grateful I am that I get to build my work life around MY own kids? Oh, yes I am!)
For a short period of time (after the murder of Martin Luther King Jr.) Louis joins the Black Panther Party. Louis looks down on his father…rejecting what Dr. King's character had told him, "Black domestics play a strong role in our history." The fact that many of the servers were hardworking and trustworthy caused the misconceptions held by some White employees about Black people to be torn down. While many of the domestics were looked at as being subservient, in reality many of them were subversive. (There is a great storyline in the movie about Cecil advocating for equal pay and opportunities for White House staff up until the Reagan administration. It highlights Dr. King's point. The domestics change hearts.) In another one of my favorite scenes of the movie, Gloria smacks Louis for disrespecting her husband/his father and reminds him that everything he has (and is) is because of his father. Louis' association with the Black Panthers didn't last though and eventually the father-son relationship is restored over time.
There are several other great parts to the movie, but I don't want to give everything away! Most of all, I was happy to see the Gaines marriage and family weather the storms over the decades. The couples' love for each other truly was "until death do us part". As the movie comes to an end, Cecil's character sees Barack Obama get elected as President of the United States. From picking cotton to meeting a Black President in one lifetime…"All things are possible."
In any event, I'm aware that this movie is just loosely based on a real life…but the history surrounding it is real. Historically speaking:
-The slavery of Blacks in America lasted for 244 years (from 1619 to 1863).
http://www.history.com/topics/slavery
-Blacks have been "free" in America for 150 years (from 1863 to 2013).
http://www.theroot.com/views/slavery-ended-when-were-blacks-truly-free

-The civil rights movement (that truly began to give American Blacks freedom) didn't emerge until the mid 1950s to mid-1960s, a century after emancipation.
http://americanhistory.about.com/od/civilrights/a/civilrights1.htm

-In reality Blacks have only had basic American freedoms for a little over 50 years (from 1960 to 2013).

While I don't think that it is necessary or even particularly beneficial to dwell on the past, I absolutely agree with Edmund Burke who said, "Those who don't know history are destined to repeat it." While we (as a nation) are definitely better than we were, there is still progress to be made. Some of the concerns that were raised in "The Butler" movie – equal protection under the law, equal pay and equal opportunities for career advancement – are still issues that burden Black men and women today…although on a lesser scale.
"The Butler" reminded me that while there is still work to be done, all things are possible…especially with the love and support of family. I am definitely (even more) grateful for the strong family that I have. I am intent on continuing to make it one of the top priorities in my life. Oh, "yes I can"!