I can't write enough great things about the movie Slumdog Millionaire which was recently released. To be honest, it took me a while to watch the review copy that I was sent because I though that it was going to be super "deep". (I have to be in the right mood to watch those types of movie or they depress me.) To my pleasant surprise, Slumdog Millionaire defied description – it had its sad and shocking moments but overall it had a hopeful and inspiring thread that ran throughout. My husband and I were captivated from the first scene to the last.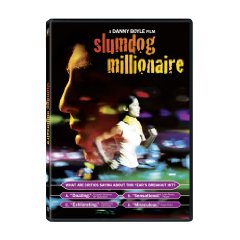 The film was wonderfully written and beautifully photographed. The movie is a series of flashbacks on the life of Jamal Malik a young man who was raised in the slums of Mumbai, India. He is being interrogated because authorities believe that he (an uneducated, slum kid) has been cheating on an Indian version of "Who Wants To Be A Millionaire" show that he's one answer away from completely winning. It turns out that he has known the answers to the questions based on various life experiences. The flashbacks range from humorous to sad. They cover a range of themes from celebrity worship to religious intolerance to the love of money.
To me though, the entire movie is a love story. There is the love between the two (very different!) brothers Salim and Jamal. Jamal is more sweet-natured and wants to do the right thing while Salim is more ruthless and money hungry. One thing is certain though – the two boys love each other (even when they disagree/are furious with one another) and they are willing to risk their lives for one another throughout the entire film. The other, more romantic love story is between Jamal and Latika. Jamal makes Latika the "third musketeer" in their group as young kids shortly after he and Salim's mother is killed and they are living on the streets. At various times in their life, Jamal and Latika get separated physically, but Jamal always carries her in his heart and constantly searches for her. In fact, the reason that he even does the "Millionaire" show is because he thought that she would be watching. He did it for love, not money. Of course, she was watching. During the final minutes, she escapes from her captors and races by car to get to Jamal before he answers the last question. One of the sweetest love scenes that I have seen in a while occurs when they reconnect. Jamal kisses the scar that Latika is ashamed of (she had received it earlier when she had tried to escape in order to be with him). It was obvious that the two were destined to be together. The movie ends with their first kiss on the lips…awww. (During the credits, there is an upbeat group Bollywood style dance. It was wonderful to see the film end on such a fun, festive note.)
In any event, my husband and I both loved the movie. There's something for everyone. It's a love story, but it's also filled with a lot of action and adventure. There was one scene that I had to turn my head away for (they blinded a kid – blind beggars make twice as much), but other than that, I was glued to the screen. This movie definitely deserved the "Best Picture" Oscar. If you haven't guessed by now, I definitely recommend adding this DVD to your collection!