Updated Location Instructions:
The address is Randall's Island, New York, NY 10035. There will be directional signs posted throughout the park to the Picnic with the Hebrew national logo on them.
Directions:
"Please follow signs heading south for the Wards' Island / Ward's Meadows Fields.
Pass Field 74 (left) and 63 (right) and park in the Parking Lot just past Field 63.
The Hebrew National BBQ will be at the north end of the Parking Lot on your right."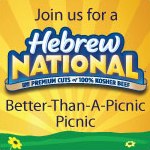 I'm excited to be co-hosting the big, official kick-off of the 2010 Hebrew National Better-Than-A-Picnic Picnics series this Saturday, May 22nd (the day after my 37th birthday!). My friends have been asking me if I wanted a party for my birthday, but I said no. (I only really like big celebrations for the birthdays ending in 5s and 0s – so my next big party will be in a few years when I hit the big 4-0.) Meanwhile, I'm so happy that I'll be surrounded by people who I enjoy-family, fellow bloggers and friends -including you if you can make it.
If you can come, the picnic is going to take place at 11:30 AM on Randall's Island's Central Fields by Scylla Park and goes until 3:30 PM. You can find the directions here. There will be giant puzzles, mechanical bull rides, activities for kids and family, music and the Hebrew National AirStream bus where hot dogs, fruit and drinks will be served. (Why am I so excited about a mechanical bull ride? Maybe it's because I have never been on one!)
Today, I also found out that Cheryl Hines (of Curb Your Enthusiasm fame) will be at the picnic from 11:30 AM until noon. (Side story. My photographer friend Sissi always says that I remind her of Cheryl Hines?! I think that it's because we both have really big smiles. I'll see if I can take a picture with her to prove/disprove Sissi's observation.)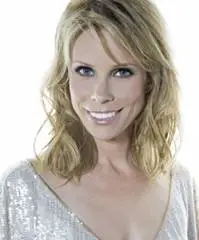 The best part (for me) is that we will get to take part in a service project during the picnic. We will be working with Feeding America and local NYC food banks on the Magic Summer Lunchbox program to make sure that kids get lunch during the summer months. At the picnic, we will be decorating reusable canvas lunch bags and making messages to put in the bags that the kids in need will receive their lunches in.
Several of you have RSVPd to me already. If you haven't, please let me know if you can make it in the "Comments" section below or simply sign up on our Facebook page. Thanks!
P.S. Do you need even more of an incentive to come? Well check out the list of the wonderful bloggers who will be co-hosting the picnic with me:
Isabel, Alpha Mom http://alphamom.com
Jen, Next Kid Thing http://nextkidthing.com/
Lisa, New York Chica http://newyorkchica.com/
Suzanne , Mom Confessionals http://momconfessionals.com/
Amy O., Selfish Mom http://selfishmom.com/
Anna, Mommy Poppins http://www.mommypoppins.com
Carol, NY City Mama http://nycitymama.com/
Amy P., Long Island Parent Source http://www.liparentsource.com/
Kelsey, Naptime Chef http://www.thenaptimechef.com/
Jo-Lynne, Musings of a Housewife http://www.musingsofahousewife.com/
Whitney, Mommies with Style http://www.mommieswithstyle.com/
Melissa, GirlyMama http://www.girlymama.typepad.com/
Emily, TheMotherhood.com http://www.themotherhood.com
Whitney, Mommies with Style http://www.mommieswithstyle.com/
Cecily, Cecily Kellogg http://www.cecilykellogg.com/
And
Melissa, Girly Mama http://www.girlymama.com/
Disclosure: I am being compensated to serve as one of the co-hosts for this event, so I guess that I will be welcoming. (Hopefully, I am anyway!)