As a practice, I don't normally list calendar events on this blog. (I considered adding an events calendar once I stopped maintaining the one at ParentZone, but it's too time consuming.) Anyway, I still get some really great local event notices. I will share the especially good ones (like the one below) on occasion here in the "City Life" section. Enjoy!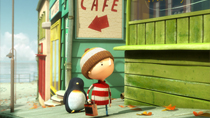 The critically acclaimed New York Int'l Children's Film Festival (NYICFF) — www.gkids.tv/intheaters — kicks off its 13th season February 26 – March 21, 2010 at six New York locations, with ground-breaking, exciting and thought-provoking new films and events for ages 3-18.

NYICFF is North America's largest festival of film for kids and is expected to attract an audience of 25,000 children, teens, parents, filmmakers and industry professionals. The festival will present 100 new films from around the world with: gala opening and closing events, major feature film premieres, director Q&As, NYICFF's award-winning short films programs, children's film production workshops, a celebrity benefit event, a 50-year French animation retrospective, audience voting, and the NYICFF Awards Ceremony. The NYICFF 2010 Jury includes Frances McDormand, Uma Thurman, John Turturro, Susan Sarandon, Matthew Modine, Gus Van Sant, Michel Ocelot, and James Schamus.
(You can find a full schedule and tickets to all events at www.gkids.tv/intheaters.)