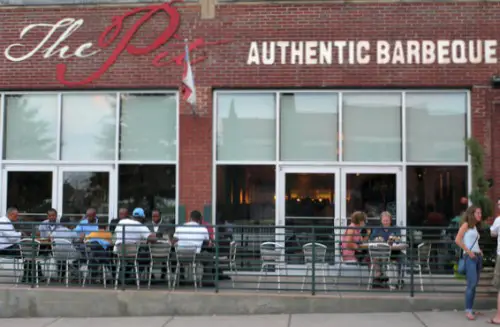 North Carolina is known for its delicious barbecue, so of course we had to visit the legendary restaurant The Pit. Known for its pit-cooked barbecue and southern sides, The Pit did not fail to live up to our family's expectations. We went on a Sunday night and the place was packed. (Note to self: make a reservation the next time!) It was worth the wait though.  This is what we ordered…
A few thoughts:
-The corn fritters and biscuits that came with the meal were delicious. (Corn fritters can sometimes be "greasy", but these ones were perfectly prepared.)
-The ribs were tender and flavorful. Reggie is picky about his barbecue ribs and he thoroughly enjoyed them. (I love my slow cooker ribs, but they really don't compare to pit-cooked ones. Oh, well…)
-The crust of the Southern fried chicken was crispy and also full of flavor. It was thoroughly cooked, but not as "hard" as I personally like for mine to be prepared.  (Granted, it's challenging to make chicken that is both "juicy" and "hard" at the same time for large groups. That is why Reggie is my favorite fried chicken "chef".)
-The cabbage collard greens were not what we expected. Being from the south, I am accustomed to standard green collards. I didn't realize that cabbage collards look and taste completely different. We prefer "regular" collard greens.
– The apple crostada dessert was amazing. My guys are already making plans for me to make one when we go apple picking this fall. It was served with caramel sauce and vanilla ice cream…the perfect ending to a wonderful meal.
In any event, if you enjoy southern food and are in the Raleigh, NC area, be certain to make a reservation for dinner at The Pit.
The Pit
328 West Davie Street
Raleigh, NC 27601
(919) 890-4500
http://www.thepit-raleigh.com
Thanks to The Greater Raleigh Convention and Visitors Bureau for including this outing in our itinerary for the weekend!