Congrats to the winner: Monica S.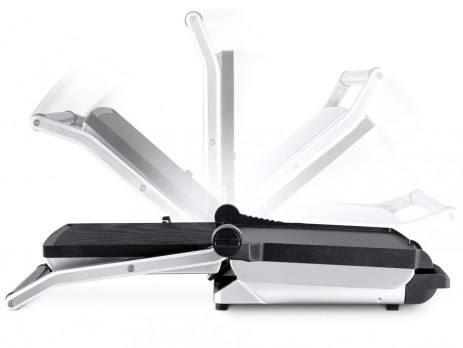 Oh, how I love my Breville indoor grill.  Let me count the ways.  Actually, I still agree with my initial assessment from June 2009 regarding the 5 things that we (Reggie and I) like the most about the grill:
1. It is versatile. The height adjusts so you can grill a variety of foods from pancakes to thick cuts of meat.
2. It is compact. Although you have the option of opening it (flat) to grill, it can also fit on a countertop when it is closed.
3. It gives real barbecue results. (Although honestly, it's impossible for it to have that same charcoal smell and taste.)
4. It is easy to clean. Some women love cleaning. It makes them happy. I'm not one of those women. Since I clean when my husband cooks, the non-stick plates on the grill get a thumbs-up from me!
5. It is a healthy choice. You have the option of draining the fat into the included dip tray.
(You can read the entire 2009 review and giveaway post at The Breville Die Cast Indoor BBQ & Grill.)
Fast forward to 2011 – I still use the grill almost every single day.  From french toast and pancakes in the mornings (when we have leisurely breakfasts) to grilled meats (practically every night), the Breville grill is my "go to" kitchen appliance.
Here's the best part…Breville is going to give the updated version of my beloved grill – the Smart Grill (a $299.99 value) – to one lucky Foodie City Mom newsletter subscriber! It has all of the features of the older model plus a LCD display that lets you know when the grill is ready to be used. (Thanks so much to Breville for sponsoring this giveaway!)
To enter to win the grill:
1.  Tell me the food that you are most looking forward to grilling on the Smart Grill in the "Comment" section.
-Bonus Entry #1: "Like" the Breville page on Facebook and let me know that you did in the "Comment" section.  (It's actually a really good company page.  It has recipes, cooking videos and links to relevant, non-Breville branded kitchen and cooking resources.)
-Bonus Entry #2: "Like" the new Foodie City Mom page on Facebook and let me know that you did in the "Comment" section.  (I just launched it, so my mom hasn't even "liked" it yet.  Similar to this new blog home, I am in the process of building it, so please join me!)
All entries are due by noon (EST) on July 31, 2011.  Good luck!