Last Thursday, I attended the Time to Play Holiday Showcase which was hosted by TimetoPlayMag.com. While there, Time To Play announced it's "Most Wanted" toys for the holiday season. In addition to their picks, a wide variety of toy companies were there to share their top choices for the season.
I had a great time. I'll be sharing more about some of the toys in-depth in my November holiday toy guide. Meanwhile, I wanted to share two highlights from the event:
1. It was wonderful to see some of my favorite local moms who blog as well as others who traveled into town for this special event.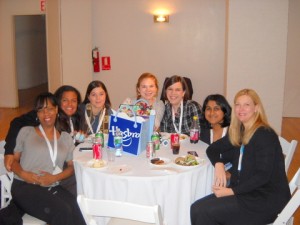 (Photo courtesy of Mommy Niri)
2. The Time To Play Holiday 2009 Most Wanted list had some great picks. You can see the images, read the full details and such at http://www.timetoplaymag.com/mostwanted/. Meanwhile, here are the picks:

-BARBIE FASHIONISTAS
-CRAYOLA CRAYON TOWN
-ROCKY THE ROBOT TRUCK
-CANDY LAND SWEET CELEBRATION GAME
-ZHU ZHU PETS
-BAKUGAN 7-IN-1 MAXUS DRAGONOID
-DORA'S EXPLORER GIRLS
-TRANSFORMERS MOVIE CONSTRUCTICON DEVASTATOR
-BATTLE STRIKERS
-NERF N-STRIKE RAIDER RAPID FIRE CS 35 BLASTER
-PRINTIES
-AIR HOGS SWITCHBLADE
-EYECLOPS NIGHT VISION GOGGLES
-GIRL GOURMET SWEETS CANDY JEWELRY FACTORY
-LEGO STAR WARS
And
-THE BEATLES ROCK BAND