Last week, several of my friends took me out to Tipsy Parson, a southern restaurant in Chelsea, for a birthday dinner. Both the conversation and the company were excellent. This is my second time going to Tipsy Parson and I enjoyed my meal both times. (The first time was for a Raleigh, NC lunch in February of 2012.) What I realized is that I tend to like the appetizers/"starters" and sides the most at many restaurants. With that theme in mind, this is what I had…
-Cornbread with habanero jam: The cornbread was good (remember that I'm from the south, so I'm "particular" about southern foods) BUT the habanero jam that was served with it made the combination great. The combination of spicy and sweetish flavors was unexpected, but it worked very well.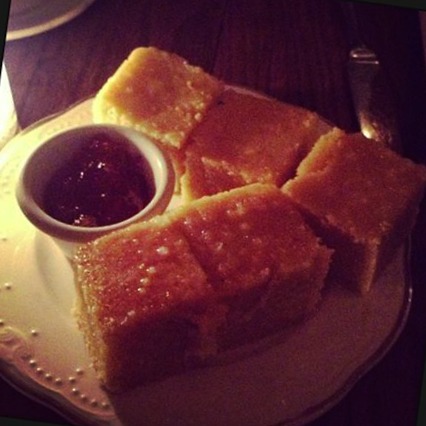 -Mac & cheese with bacon: It was excellent with just the right level of creaminess. I don't know the type of bacon that they used, but it was thick…like I love. The portions were also substantial. Since I was having the dish for dinner, I ordered a full portion ($15). I ended up taking half of it home, because I was full. A half portion ($7) would have been plenty! Look at what I had left over: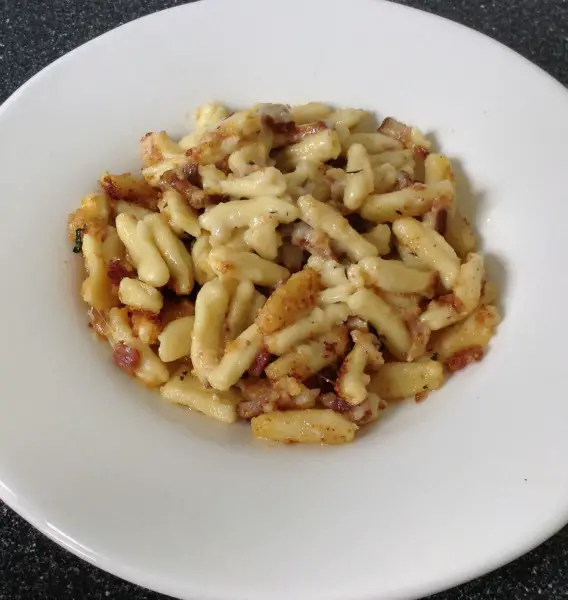 I have a couple of "go to" baked macaroni and cheese recipes already, but I want to make a version of this one for a special occasion. (They use Raffetto's cavatelli – a ricotta cheese pasta – and Grafton's cheddar cheese.)
Most of us ordered the mac & cheese. One of my friends was kind enough to share her Warm Crab Dip ($12 – gruyere, onions & peppers, toasted bread) starter though. She thought that it was a bit spicy from the peppers, but I thought that it was perfect. Then again, I like spicy food. It was so good that I will order my own dip the next time. Another friend enjoyed her shrimp & grits meal. I am one of the few southern people who actually don't like the taste of grits (it's a texture thing), so I passed on sampling that. Although I don't like the taste of grits, I do know how to cook them. Like cooking rice, so many people have a problem with cooking grits. One day, I will do a simple tutorial. Sometimes visuals help.
In any event, I had a great time. While none of the entrees or desserts on the dinner menu was especially "calling" me to pick them, I left the restaurant happy and full. If you visit Tipsy Parson, I think that you will enjoy it.
Tipsy Parson
156 9th Ave
New York, NY 10011
(212) 620-4545
If you enjoyed this post, don't miss future ones! Please be sure to sign up for my email updates. (Also, if you're on Pinterest, let's follow each other.)