The thing about picking toys for very small kids is that each kid is so unique. At this stage, my kids primarily liked stackers, books, blocks, lego-type sets and music instruments. Most of all, they like the boxes that I receive my deliveries in! However, we always get each of them at least one special gift during the holiday season. Below are ten great picks:
1. Crayola Beginnings Baby TaDoodles Drop & See Playset w 3 TaDoodles Balls (2009)
: Crayola TaDoodles were a big hit at our house last holiday season when Sean's aunt bought him a gift set. Now that he's a little older, he prefers his brother's "big boy" crayons (still Crayola). There is so much to like about this particular set. Kids get to work on their motor skills (with the push-and-pull levels and buttons that make sounds). They also get to be creative as they see the three TaDoodles travel through the rainbow colored set mixing colors and such. Note that this toy requires 3 "AA" Batteries (Ages: 9+ months; $24.99 SRP)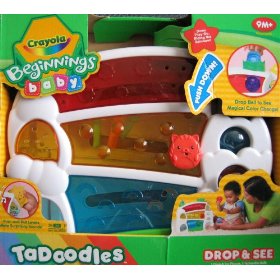 2. Fisher-Price Learn To Fly Abby
: What can I say? After spending the day at Sesame Street, I fell in love with Abby Cadabby! This plush Abby is super cute because it allows your kid to help her learn how to fly. Each time the child touches Abby with the wand, it causes Abby to get closer to flying. The third/final touch causes Abby to fly (lift up on her tippy-toes and quickly flap her wings – she doesn't actually fly like a remote-controlled airplane). If your kids are Sesame Street fans, this toy will be a big hit. Note that this toy requires 4 "AA" batteries. (Ages: 18 months+; $37.99 SRP)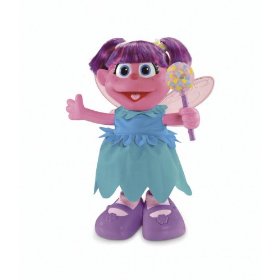 3. Fisher Price Manny's Fix – it Motorcycle
: I first saw this toy at the Toy Fair earlier this year. I knew that it would be a hit for several reasons. First, it's Handy Manny, a very popular preschool character. (My kids don't watch the show as much anymore due to changes in their schedules, but it was a past favorite.) Secondly, it features a cool motorcycle. Lastly, I think that kids will enjoy tinkering around with the different parts. They can change the bike into a chopper by following the enclosed blueprints. I really like how these Manny toys really help the kids to feel like mini mechanics. (I was going to recommend the Fisher Price Manny's Repair Shop
which has several projects instead, but it's a little large for those of us with limited space.) Note that this toy requires 3 AAA batteries. (Ages: 3 years+; $34.99 SRP)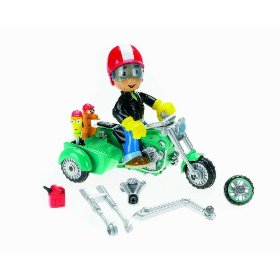 4. Infantino Tummy Time Activity Center
: For some unknown reason, neither of my kids were big fans of tummy time. Little activity centers like this helped a bit. There is a wide variety of this type of product, but I especially like this Infantino one. Each of the four sides has a variety of activities. I especially like the peek-a-boo mirror (a big favorite with most kids) and the water pouch fish tank. What is neat is that it grows with the kids. (My kids tended to enjoy this type of toy more when they could sit up and play with it.) (Ages: 0 months+; $$22.99 SRP)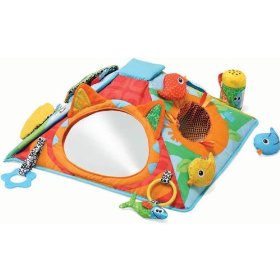 5. I reviewed the Leap Frog Tag Junior on this post. I wrote:
I also received the LeapFrog Tag Junior book pal
for Sean. My husband Reggie used the included USB cord to download the stories from the LeapFrog website. The timing could not have been better. Since Michael is in school, Sean goes to "home school". Reading is a large part of what we do. Fortunately, both of my sons already have a love for books. The Tag Junior simply allows Sean to "read" books both alone and with me … What I do like about this system is that it helps me to better my reading skills with the kids. Since the books are interactive, they make sounds and ask questions along with reading the text. That helps me think of ways to make other books come alive when I'm reading with the kids. I also like that the TAG Junior is helping Sean with basic beginner reading skills (i.e. he'll listen to what the reader is saying and run his fingers under the words from left to right like he's "reading"). It's very cute. (Ages: 2 – 4 years; $34.99 SRP, but it's on sale right now!)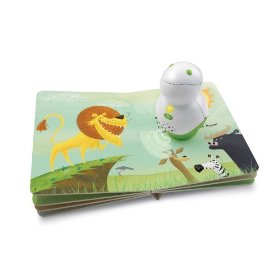 6. Learning Resources Counting Fun Fruit Bowl
: This is one of those simple, durable educational toys that both kids and parents really enjoy. Basically, it's just 5 plastic fruits in a bowl. What makes it neat is that the pieces of each fruit is numbered and they come together/pull apart. It's a very easy way to teach basic math (counting, fractions and such). My kids like to play grocery store, so this is a great way to have them play without damaging my real produce! (Ages: 3 – 6 years; $18.99 SRP, but it is on sale)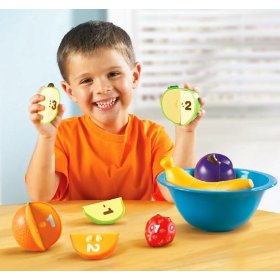 7. Hit Toy Let's Go Thomas: I have mentioned how much my boys love Thomas at the moment. (I have seen little girls watch Thomas shows and they enjoy him too.) We usually get our kids one gift based on their favorite character of the moment. If you're like us and your little one loves Thomas, they will love this interactive Thomas that talks, sings and chugs along. (His blushing cheeks and reactions to voice commands are also big hits!) Note that this toy requires 3 C batteries. (Ages: 18+ months; $49.99 SRP)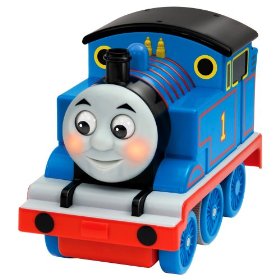 8. Skip Hop Animal Ball Trio
: Sometimes it's hard to find unique gifts for infants. I like this one because it's cute, affordable and safe. It's a set of three soft balls and one ring. The balls (which have different textures) chime, rattle or squeak. Best of all, you can attach it to practically anything with the ring. (Ages: 0 months+; $15 SRP)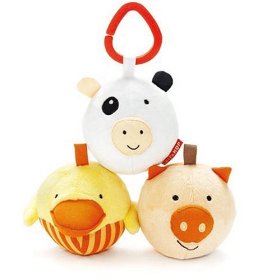 9. I reviewed the U-Play Mat on this post. You can read the full review there, but here is a bit of what I wrote:
-I like that it "forces" parents to actually get down on the floor in order to interact with their kids. I don't know about you, but at times, I can get caught up with the "busy" nature of life. I must admit that at certain times, "Can we play…?" is my least favorite question! However, I know how important it is for my kids to see me slow down, sit down and actually play with them.
-I like that it's low-tech. We are a gamer family, so my boys are naturally drawn to anything electronic (television, computer, DS, Wii, etc.). I think that all of those things have their place, but little is as bonding as good, old-fashioned play. The mat is fun when I use it with Sean by myself BUT it is even better when Michael plays my "helper". Michael enjoys using the theme-based flash cards (that go into the 15 clear pockets) to "teach" his little brother.
-It is well designed. Besides the quality of products, it's important to me that they are self-contained. (I'm a clutter-phobe.) The mat comes with a tote bag where you can neatly place the mat and cards. I just put everything in the bag and place it in my kids' closet. Yes! (Ages: 0 months+; $49 SRP)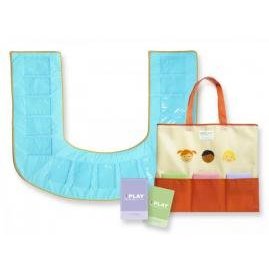 10. Yo Gabba Gabba Muno's Groovin' Guitar – Assortment
. I was going to suggest the Yo Gabba Gabba! Boom Box
because it's a more recent offering, but I decided to stick with a family favorite. I bought this for Sean for his second birthday earlier this year. He and Michael take turns "playing guitar" on it. Sean especially likes the Yo Gabbab Gabba! show, so he'll go and get his guitar and pretend to play along to the songs on the show. When the kids are not playing air guitar, they can listen to pre-selected songs by pushing the corresponding button on the guitar. It's also sturdy – which is important, because kids are creative. Around here, one day it's a guitar, one day a surfboard… (Ages: 2 – 5 years; $22.99 SRP)