It's challenging to put together holiday gift guides for moms, because we have such a wide variety of interests. This year, I have reviewed a lot of great products. That's why I'm simply going to pick my top five favorites as holiday gift ideas…
1. Breville 800GRXL Die-Cast Indoor Barbeque and Grill
: I wrote the following about the grill on this post:
Normally, my husband is not excited about the items that I review or give away on this site. However, he was really happy about this one! I let him know that he would have to work for it though by sharing his thoughts. Here are the 5 things that we like the most about the grill:

1. It is versatile. The height adjusts so you can grill a variety of foods from pancakes to thick cuts of meat.
2. It is compact. Although you have the option of opening it to grill, it can also fit on a countertop when closed. For me, it's replacing my Crock-pot on the counter while the weather is warm. (I really don't like a lot of stews/chili type foods when it's warm outside.)
3. It gives real barbecue results. (Although honestly, it's impossible for it to have that same charcoal smell and taste.)
4. It is easy to clean. Some women love cleaning. It makes them happy. I'm not one of those women. Since I clean when my husband cooks, the non-stick plates on the grill get a thumbs-up from me!
And
5. It is a healthy choice. You have the option of draining the fat into the included dip tray. (My husband doesn't really care because he has a crazy metabolism. He can eat whatever he likes and not gain an ounce.) ($249.99 SRP)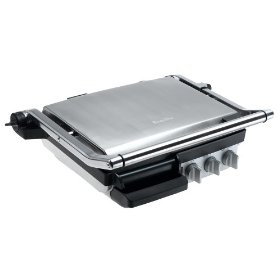 2. HP Photosmart Premium TouchSmart Web All-in-One Printer
: I did a giveaway for the printer on this post. Prior to that, I was able to tinker around with one at a HP event in NYC where I observed the following:
It's the world's first web-connected home printer. I came home and shared with my husband that he would love this printer because it easily prints out correctly-formatted maps. (We have a GPS, but my husband always likes to have directions on paper also…just in case.)
–The web control panel on the printer comes pre-loaded with HP applications. (I'm not a huge fan of having to download everything!) These applications make it easy to print maps, coupons, movie tickets, etc. (I printed out a map and a coupon.)
–HP has established partners. Google, DreamWorks Animation, Fandango, Coupons.com and others are already a part of the applications. (I actually watched a movie trailer on the panel.)
–You can print photos from Snapfish (if you use that site) directly from this printer.
–It has multiple uses. Along with the fun web feature, the printer also prints, faxes, copies and scans. ($399.99 SRP)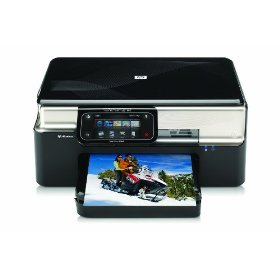 3. Kodak Zi8 HD Pocket Video Camera (Black) NEWEST MODEL
: I have raved so much about this video camera this year, so obviously it made my top five list. Until a better product comes along, it is my current small video camera of choice. It's so easy to use. I especially like that you can switch between photo and video mode and that it takes good video even in low light situations. Two things to note when using it: 1. Get close to your subject, so that it will pick up the sound (or get an external microphone – it has a jack); and 2. Use the lowest resolution setting that you need, because the 1080 high definition video takes a LONG time to download. ($179.95 SRP)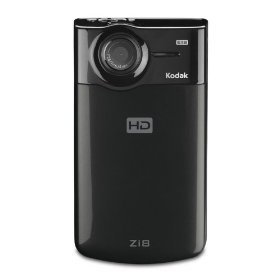 4. Panasonic Toughbook
: This is my favorite aspect of being a part of Panasonic's Living in HD program. As a LiHD family, we have been loaned a suite of products to test out over time. So far, this notebook has passed the test with flying colors. The top three personal reasons that I think this laptop would make a great holiday gift for any mom are the following:
1. It is nice and light.
2. When I travel, it allows me to do my work on the airplane or in the hotel so that when I come home, I am e able to spend time with my family.
3. My husband is a teacher. I am a parenting writer/blogger. We had one PC before we became a part of the Living in HD family. Since both my husband and I do a lot of our computer work at night after the kids are in bed, sometimes we would jockey for computer rights! Earlier this year, I was all set to buy a laptop since my workload had been expanding. Then, we found out that we had been accepted as part of the program (yay!). I really enjoy using the laptop. With the wireless mouse, it's just as easy as using the PC. Now, both my husband and I get our work done in a more timely fashion…leaving us more "non-work" time to spend with one another.
Unfortunately, this particular model has been discontinued, but you can check out the updated/even better Toughbook versions on Panasonic's Mobile Computer site.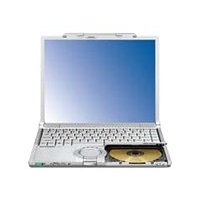 5. Tillia Beauty: Gifts don't have to be expensive. I wrote the following about two of this beauty company's bath product on this post:
I loved the two products that they sent me to review so much that I kept one for myself and gave the other to my own mom! Tiffany Lerman, who designed the line, is a mom of two who wanted to introduce products so that moms could indulge themselves. She hit the mark. I love, love, love the Pink Grapefruit Bubble Bath ($20). I keep walking around with it open telling the visitors to my home, "Smell this!", because it smells so fragrant. I can't give this product a better compliment than to say that it has made me (a shower person) go back to taking baths at least once a week. I'm also impressed that the company is able to make such wonderful products (did I mention that they are paraben-free and eco-friendly?) at such reasonable price points ($12 – $30). Tillia is definitely one of my top Bath & Body company picks!