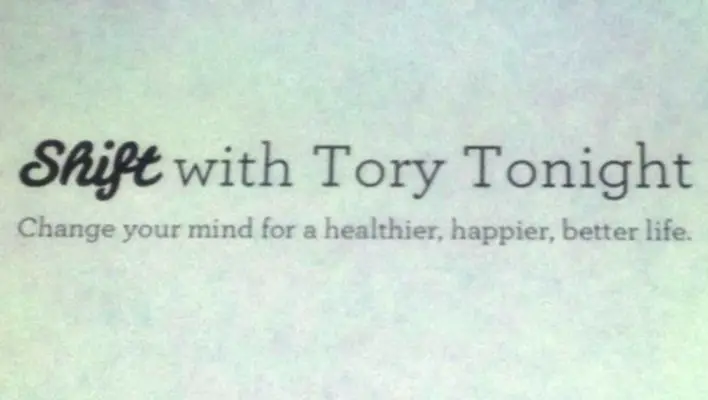 In Tory Johnson's The Shift is about more than weight loss and The Five Steps to Tory Johnson's Weight Loss Shift, I shared my notes from the Shift with Tory event in New York that I attended as a media guest. (During the live event Good Morning America contributor Tory Johnson shared about her new best seller book The Shift: How I Finally Lost Weight and Discovered a Happier Life
.) I will end this series by telling you the three main things that I took away from the evening and the "shift" that I decided to make.
Three Main Takeaways

1.) "Shift" is another word for repentance. Since I come from a Christian background that is exactly what I thought of when Tory described her. Metanoia (the Biblical Hebrew word for repentance) implies that once we change our mind/thinking in order to be transformed by God's truth, then our actions will change accordingly. (Even when you take God out of the equation, the same principle applies – If you really change your mind about something (whether it's food or anything else), then your actions will change.
2.) We have to be careful not to give other people or things (i.e. food) so much power over our life decisions. When Tory shared how her weight caused her not to see the doctor for so many years, I kind of cringed inside because there are plenty of overweight people who go to see the doctor. It was her choice…just like it was my choice not to go see the doctor for the last 4 years since we moved to Queens – up until this past summer.
While I could make plenty of excuses (busy, inconvenient, etc.), the reality is that I just didn't make visiting the doctors a priority. If I could go into Manhattan to see my dentist regularly – which I did – then I could have set up new doctors. When I finally did go to see the OB-GYN, I was "scared straight". After getting my pap smear, I was told that there was a problem with it. ("Oh great! I thought to myself…and it's totally my fault if the problem is advanced since I should have been getting one every year!") Fortunately, everything ended up being fine… but I learned my lesson. Since I'm 40, I need to schedule my mammogram within the next month also. Two doctors down, one to go…
3.) It's important to remember the legacy that we leave our children is a powerful thing. There was only 1 main part during the speech that I disagreed with Tory…when she expressed disappointment about her spending a fun weekend away with her daughter because she wasn't disciplined food-wise and gained a few pounds.
Granted, I don't have the same weight struggles as Tory did. I didn't grow up overweight. Having kids and turning older (you know, "life") are the things that have caused me to have to be more aware of how much I eat. Gone are the days that I could eat whatever I wanted and just exercise to be "right and tight". Sniff. However, I don't want my kids to ever feel like I regret any especially fun times with them because of something like weight. If I can leave my kids a legacy of avoiding extremes, then I will be happy.
Here's the thing…life is short. I know people who made pretty awful food and exercise choices who have lived long (relatively) healthy lives. On the flipside, I have known people who were super conscious of their food and exercise choices who ended up having awful diseases and/or dying young. As for me, I exercise consistently and eat healthy the majority of the time. I decided…I would rather wear a size 6 and enjoy special times involving food with my family and friends than a size 4 and have to be the one eating a salad while they celebrate. (Youth and genetics are on "my guys" side!) For me, that is the healthiest choice that I will make.
As far as my personal shift…
I have already shifted back :-)! Since I'm constantly evaluating my life and making new goals, I didn't really feel like there was one specific change that I want/need to make at the moment (while I was at the event). So, I came up with "I'm going to start charging friends for my extended business services." However, that's just not me. It's not that I don't think that I deserve to be paid. I charge clients all of the time. I just don't want to charge my close friends…and that's my choice. Generosity works for me, so why should I change it?
Rather, I decided that I was going to work at being a better salesperson business-wise. Although I'm consistently profitable, I stink at sales. Ninety plus percent of my paid work over the last decade has come from referrals. While I really appreciate that fact, I do think that sales is something that every person who has their own business should know (even if they decide to outsource it). So, that's the business skill that I will be focusing on for a while.

What about you…is there anything that you especially want to change in your life? If so, go for it!