Yesterday, I attended a media lunch at Alice's Tea Cup on the East side. The event that was hosted by Ceslie Armstrong was with Tsukihoshi, OLLY Shoes and Badorf Shoe Company. I really enjoyed myself, because it was a quick, informative meeting. It was different in that this was the first time that I saw the actual shoe company, the distributor and one of the retail stores that carry the line all together at one event. It was interesting to hear the various perceptions of the Tsukihoshi line. (Of course the tea didn't hurt either. I am a tea lover. I have been to Alice's Tea Cup on the West Side many times, but this was my first time going to the one on the East Side. It is equally charming and a bit more spacious.) Overall though, it was primarily about the Tsukihoshi (pronounced "ski-hosh-i") shoes.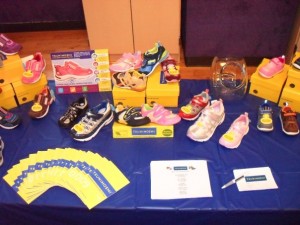 Photo by Tsukihoshi
Have you heard of Tsukihoshi shoes? I had not. Then again, I haven't made any secret of predominately being a Stride Rite mom. We have also bought New Balance and Nike shoes for the boys. They were good too. We bought one pair of Reebok shoes, but I hated them – they were too flimsy for Michael's feet. Other than that, Michael is currently wearing a pair of Skechers that his aunt bought for him. He likes the t-strap design. I don't know if I would buy them, but they are fine. All of that to say, I wanted to see what I was missing. It turns out that I was missing a lot. The things that I liked the most about the shoes were the following:
-Easy care: They are machine washable.

-Well designed: Since the shoes are manufactured in Japan, they have an "almost barefoot" mentality in their shoes. As such, the shoes have a lightweight design to mimic that feel – wider toe box, more open style, flex points in the correct spots, etc. I also like that due to the open style of the shoe, they fit kids with wide feet without the need to order a special shoe.
-Colorful, fun styles (even for boys!): Tsukihoshi has a variety of styles and colors. Japan's unisex dressing aesthetic, is seen in the colorful, fun patterns for both girls and boys. Honestly, (as a mom to two boys) this is the area where the line stood out the most to me. They had athletic shoes not just in white with another neutral thrown in but also in navy, brown, silver, camouflage and other colors.
-Easy for kids to wear: Recently, there was a "discussion" going on in my home. My husband thought that Michael should start wearing lace-ups to school so that he can get in the habit of tying his shoes every day. I, on the other hand, thought about the teacher. She has 22 students (and no assistant). I didn't want to slow her down by waiting for him to tie his shoes if they got untied. The compromise: he will wear lace-ups after school and practice then. Anyway, I like that most of the Tsukihoshi shoes are Velcro – but "cool-looking" NOT "he's going to get beat up for wearing that" styles. They also have some "speed lace" shoes – that look like they are laced, but the shoes are really closed with Velcro. Tsukihoshi recently expanded their line to include actual lace up shoes for larger shoe sizes, so parents get to choose. One last thing that stood out in this area is that the tongues of their shoes are attached to only one side. That makes it so much easier to slide the shoes on kids' feet! (On a side note, did you know that kids in certain younger grades in Canadian public schools are not allowed to wear shoes with laces to school? I learned that at the lunch. I don't really know if it's true, but I still would have used that for my "case" with my husband if we had not already come to a compromise…)
-Competitive pricing: The shoes range from $49 – $65. That's medium pricing for athletic footwear. Like I have written in the past, when it comes to the daily shoes for my kids, I don't mind paying for quality. I'll only skimp on the "few hours only" shoes. In case you care (I don't) a lot of celebrities including Sarah Jessica Parker, Angelina Jolie, Julianne Moore, etc. have even actually bought – as in paid for/not been gifted – Tsukihoshi shoes for their kids. (Well, I don't know if they bought them. They could have been gifts from someone else. The point is that Tsukihoshi didn't gift the shoes to them for the free press. At least, not up until this point they have not!)
In the end, I (out of habit) end up comparing quality shoes to Stride Rite. For quality and technology used in designing their shoes, I would say that Tsukihoshi ties Stride Rite. Where Stride Rite has the edge is in the fitting/measuring kids' feet in their Stride Rite stores. (Tsukihoshi does not have stand alone stores here yet.) Where Tsukihoshi has the edge is the variety of fashionable styles. Their shoes are fun and different. (I just so happen to like Japanese styled items and you can definitely see the influence in certain Tsukihoshi shoe styles.) I guess that makes it a draw. (Tsukihoshi would have the edge if I lived in Pennsylvania or Toronto where there are OLLY stores. They carry the line AND have this cool technology called OLLY Scan. With it, kids stand on a scanner and all of their foot measurements are transposed leaving no room for human error. How neat is that?!)

Do you have a favorite children's shoe brand? If so, what is it?