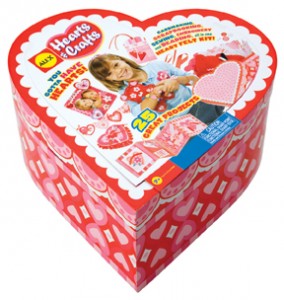 Recently, I received the Hearts & Crafts activity kit to review from Alex Toys. Although it's for ages 7+, I think that younger kids can also use it with adult supervision. (My almost 5 years old son enjoyed making a Valentine's Day card for his little classmate with it.)
The thing that I like about Alex Toys is that they combine a lot of different art supplies in a compact space. (I have purchased their Giant Art Jar in the past for this very reason!). This heart shaped box lives up to the Alex Toys reputation. It is filled with a variety of art supplies, including 6 precut cards. Since Valentine's Day is right around the corner, Michael decided that he wanted to make a card for one of his pre-k friends.
Here's a picture of him at work: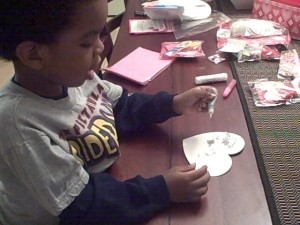 Here's a picture of his "masterpiece":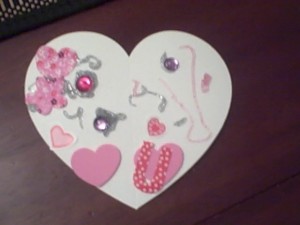 Okay, so art isn't necessarily my left-handed little one's talent. That's okay. It's the THOUGHT that counts (at his age!).
Anyway, back to the set… it has everything kids need to complete up to 25 different projects. (I especially like the photo frame, treasure box and scrapbook ones.) The pieces to make the items are all precut, so it's really easy and fun. For Valentine's Day or any day, this $39.99 kit is great to have on hand.