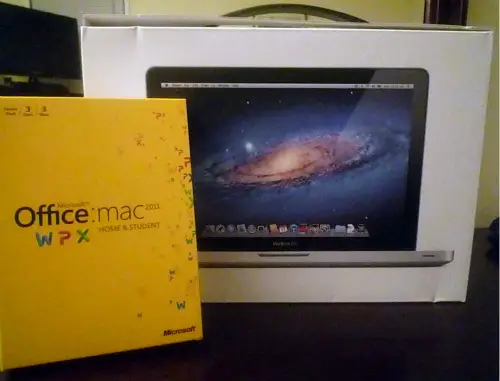 In the past, I have written about how Reggie and I don't really exchange gifts on Valentine's Day. However, I'm SO happy that he brought me home a Apple MacBook Pro
as an early Valentine's Day gift this year! It's one of those combination want/need gifts.
Last week, my laptop basically died. Since online work and writing is a huge part of my work at home job, that was a big deal.  Fortunately, I had most of the important information and documents that I needed backed up, but it was still a pain to use one of Reggie's old laptops. It's kind of ironic, but I had started to want a Mac a week earlier after a dinner guest convinced me that it was the answer to my computer woes. When my computer died, I was like, "It's a sign. I really do need a Mac!"
At first Reggie wasn't convinced that we needed to purchase a new computer. As I mentioned in a previous post about financial goals that I'm great at making our budgets while Reggie is great at helping us actually stick to them! Anyway, after pointing out that we had received a nice (unexpected!) check in January for a Special K commercial that I was in last year AND making an argument that the time and energy that I would save with a new computer would make me more productive leading to even more income, I let the conversation end. I'm not a big "stuff" person, so I just don't have the energy or inclination to waste too much time trying to acquire physical things.
In any event, I called Reggie's cell phone last night to see where he was since the kids were waiting to eat dinner with him. When he responded, "I'm getting something," I instantly knew that he was getting me a laptop, since he is never that vague. To my delight, I was right! He was at the store purchasing the Mac Pro that I wanted and getting the software installed. He's such a keeper! What made it even better is that I received a couple of checks from some work that I had done that covered the price of the laptop. It ended up being a win-win 🙂 . Now, I have to figure out what to get Reggie for Valentine's Day this year. Please let me know if you have any ideas!