I hope that you have enjoyed the food and other gift ideas so far. The last five suggestions include stationery and a couple of other items that I think you will enjoy.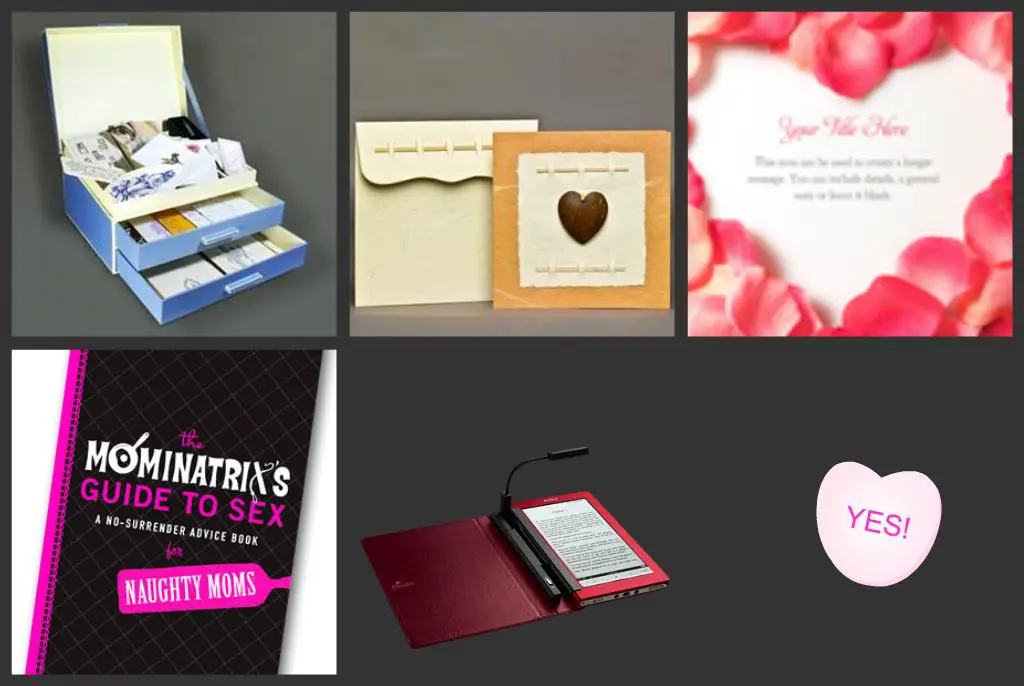 Click to enlarge
Stationery

1. FitzGerald Coleman: I love stationery and this site has a variety of beautiful paper goods. Their Valentine's Day cards are special, but "The Romantic Curated Desk Set" is what catches my eye. With greeting cards, postcards, notecards, gift cards and more, the hand packed box is like a paper lover's paradise!
2. greenshanti: If you are especially concerned about the environment and the waste that holiday cards can cause, you will love this organic stationery company. These handmade cards are made with 100% recycled products. They have several lovely design options, so you won't feel the need to sacrifice sustainability for style.

3. pingg.com: This is the only company that I actually have a business partnership with that I added to this year's Valentine's guide. I am including them because I really do think that they have the best designed free online ecards (bar none). See for yourself at pingg.com.
Etc.

4. Mominatrix: Last year I included some sex enhancers in my Valentine's Day guide. (Those kids got here somehow. Smile.) I'm not doing that this year, because for months afterward, I received many offers of the sexual nature. No thanks. There are things that I write about and there are things that I just like to do/keep personal. Intimate relations fall into the second category. However, I am impressed with writers who are great at "letting it all hang out". One of my favorites is Kristen Chase, the author of The Mominatrix's Guide to Sex. (The New York connection – I met her in person at a blogger event that was held in NYC. I know…it's a stretch, but it's my list/I can bend the rules.) Anyway, I was going to show you a YouTube video of Kristen talking about the book. There was one x-rated image in it that prevents me from placing it on my site. You are adults, so you can view the video on Kristen's site. I also like the Mominatrix column that Kristen does over at Imperfect Parent. Some of the things that she covers are not necessarily my "cup of tea". However, I think that it's good (and necessary) for moms to nurture their romantic life with their husbands/not to throw out the "lover" part of marriage once we become parents. Hmm hmm…that's all that I am going to say on this topic…

5. Sony Reader Bundle: Personally, I don't like e-readers. I love the feel of books, magazines, etc. Increasingly, I am in the minority though. I know so many NY moms who either have or want a Sony Reader. Since I see people on the subways using them, I am classifying the readers as "NY Style…by association". If I were to eventually get an ereader, I would want something special like the Reader Valentine Special Bundle. The reader and cover are red (like my new cell phone courtesy of "the ghost"). It also includes a book light and a coupon for a free download of The Heart Speaks: A Cardiologist Reveals the Secret Language of Healing.