Back in February, our charitable focus of the month highlighted that heart disease is the No. 1 killer among women in the United States. Sara Lee is also concerned about heart disease. That is why they are partnering with The Heart Truth Campaign to raise awareness of this issue and to encourage women to make heart healthy food choices. To support the campaign, Sara Lee Fresh Bakery is offering heart healthy sandwich recipes (using their nutritious breads) in the WomenHeart's "All Heart Family Cookbook". They will contribute one dollar for every cookbook ordered up to $35,000 to the National Coalition for Women with Heart Disease.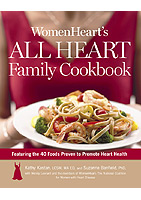 I had a chance to review the cookbook and it's definitely worth adding to your library. Not only does it share 40 of the top "heart healthy" foods, but it also includes 175 healthy (and relatively easy to prepare) meal recipes. As such, I'm excited that Sara Lee is giving away a copy of the cookbook to three Mom in the City readers.
On a healthy dessert note, try out Sara Lee's easy, seasonal "Pound Cake Flower Power" recipe below: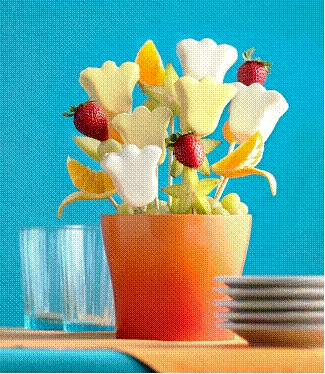 POUND CAKE FLOWER POWER
Makes 7-9 flowers
Ingredients
2 Sara Lee Pound Cakes
3 varieties of assorted fresh fruits
(Oranges, strawberries and star fruit shown)
1 pound bag of green grapes
1 large egg white
1 1/3 cups sifted powder sugar
1/2 tablespoon vanilla extract
2-3 drops assorted food coloring
1 bag wooden skewers
1/2" – 2" wide assorted sizes of flower and round shaped cookie cutters
1 decorative flower pot or basket and floral foam to hold skewers in place
Method
1. Trim the top, bottom and sides of the pound cake just enough to remove the golden brown pieces. Slice the trimmed pound cake in half horizontally making it into two even, approximately 1" thick, sheets.
2. Press the flower cookie cutters into the sheets to form flowers.
3. To make the frosting, in a mixer add 1 egg white, 1 1/3 cups sifted powder sugar and 1/2 tablespoon of vanilla extract on medium setting until firm and can maintain stiff peaks. Mix 2-3 drops of food coloring into the white frosting to turn desired color. Spread frosting onto the top and sides of each flower and place on parchment lined cookie sheets. Place in freezer to set at least one hour before sliding onto skewers.
4. Fill flowering pot with foam and position each flower in pot at varying heights.
5. Cut oranges into wedges and fold back half of the peel. Curl fold around finger and slide onto skewer. Position at varying heights in bouquet.
6. Slice star fruit and slide onto skewer. Position between flowers.
7. Arrange grapes at base of flower pot.
To win one of the three cookbooks, please tell me one "heart healthy" food choice that you have made lately in the "Comments" section below by April 30th.