Congrats to the winner: Nicoya B.

Happy Women's History Month 2021! The theme of this year's Women's History Month is "Valiant Women of the Vote: Refusing to Be Silenced". It's an extension of last year's theme since many of the women's suffrage centennial celebrations were changed due to the pandemic. (The National Women's History Alliance selects and publishes the yearly theme.)
I appreciate the continuing celebration of the Suffrage Centennial. My March giveaway in honor of Women's History Month 2021 has a different theme though. It's focused on Mindset and Money – two things that are important to women year-round.
Women's History Month 2021 Giveaway
Mindset
mindset/ˈmīn(d)set/noun
1. the established set of attitudes held by someone.

Oxford Languages

I think that mindset work is beneficial for every woman. There are a variety of books on the topic. (i.e. I have mentioned Carole Dweck's Mindset: The New Psychology of Success in the past. I think that it is a "must-read" for parents and educators.)

I'm giving away my current favorite book on the topic for this giveaway though. It is Jamie Kern Lima's Believe IT: How to Go from Underestimated to Unstoppable.  She started testing makeup to help cover up her own rosacea and ended up being a cofounder of IT Cosmetics. Jamie sold the company to L'Oreal for $1.2 billion in 2016 and she shares some helpful lessons about perseverance and belief in this book.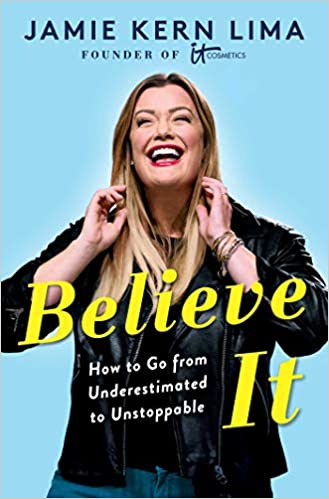 Money
In addition to getting our minds right, I also think that it's important for us women to get our money right! I'm going to write more about the basics of this topic later this month.

I'm not the expert though. That's why I'll also be giving away a copy of The Budgetnista Tiffany Aliche's Get Good with Money: Ten Simple Steps to Becoming Financially Whole. She is one of my favorite online personal financial educators. I especially love that Tiffany helped to write a law that makes it mandatory for middle school children to learn financial literacy in her home state of New Jersey.
Bonus Tote
I'm also including a cute tote bag that I created in honor of Women's History Month 2021. You can carry your books (or anything else) around in it. Remember…it's ALWAYS a great time to lift up and celebrate women.

To enter the giveaway, simply let me know one woman who inspires you. Send an email with the answer to [email protected]. This giveaway will end on March 31st at 11:59 pm EST.
(Mom in the City Giveaway Rules) 
You Might Also Like