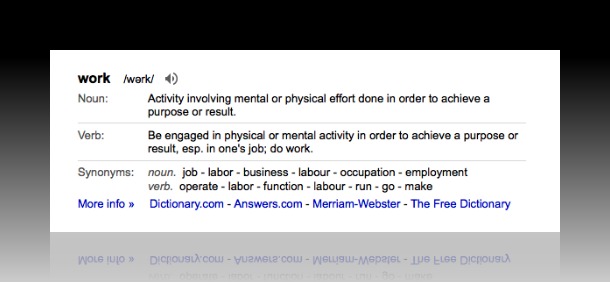 Last night, I was talking to a neighbor on my way downstairs to do the laundry. We were having a pleasant conversation talking about this and that. She mentioned that she sends her laundry out because she just didn't have time to do her own laundry due to her busy schedule. I mentioned that I understood. I used to do the same. (Reggie and I sent our laundry out for two years when we were first married/there were no washers and dryers in our building.) I have NO problem with people outsourcing the things that they don't want to do. Then, out of the blue, she asked, "You don't work, do you?" Huh?
I responded that I was fortunate enough to be able to work from home part-time on various projects around my kids' schedule. I know that she was not trying to be offensive. She's a nice lady. However, when I got back upstairs I wondered aloud to Reggie how moms who do stay at home full-time with their kids feel when people make such statements. Here's the thing…I have been working since I was 13. Even when I was working in corporate America, I had a side hustle (in addition to my 9 to 5) since I was in my mid-20s and saw a round of ruthless layoffs in my investment banking division. That is just how I'm built. HOWEVER, what if I wasn't built this way? What if I was perfectly content to stay at home with my kids full time and have that be my "career"? Would that not be work? Of course it would…
-Just like I paid people to do my laundry (to do their work), it is still work when I do my family's laundry.
-Just like I pay people on occasion to clean my home (to do their work), it is still work when I clean my home.
-Just like I pay people to prepare my food (to do their work) when I don't feel like doing so, it is still work when I cook for my family.
-Just like when I pay my son's pre-k to watch him for extra hours beyond his allotted 2 ½ hours a day (to do their work), it is still work when I am the babysitter/nanny/day care worker/home school teacher, etc. for my own kids.
You get the point. Work is work. All moms (whether they work inside of the home, outside of the home or a combination thereof) who have kids living at home with them are workers…and NONE of us truly get a day off! That's all.