Podcast Appearances
Entrepreneur on Fire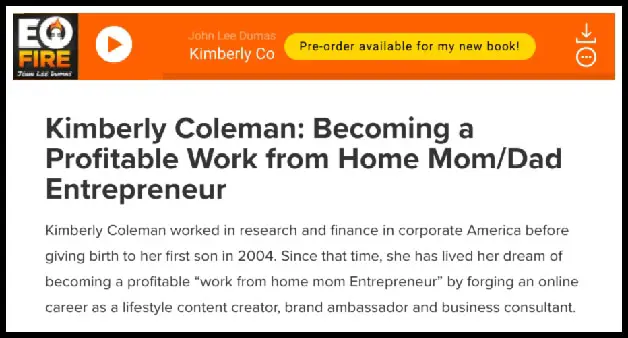 Becoming a Profitable Work from Home Mom/Dad Entrepreneur
How She Does It with Marva Smith
Wonder Inc. Wellness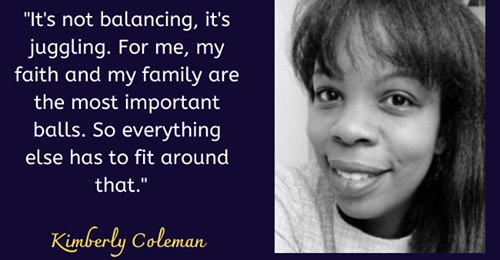 Parenting, Schooling & Chasing Joy
Kimberly (Mom in the City/Foodie City Mom) has had several other press mentions: 
-Kimberly was featured in the Rising Up to Face Racism Conversation Starter portion of the Plugged-In Parent Cheat Sheet newsletter. (pdf of conversation)
-Kimberly's tips were included in Bankrate's 4/22/21 Family financial planning post-disaster article.
–Mom in the City is included in Alltop's top sites for Moms and their Top WAHM (Work at Home Moms) page.
-Kimberly was quoted about the necessity of brands trusting their creators and their authentic connection with their audience on MediaPost in With Content Marketing, Find The Right YouTube Star, And Trust The Story.
–Mom in the City was included as one of FlipKey's Top 20 New York City-Based Travel Bloggers. "Please do yourself a favor and follow these New York City-based travel bloggers to learn more about the area they live in, as well as places all over the globe."
-Kimberly's avocado hummus recipe was included in Greatist's 24 Healthy Living Hacks From the People Who Know Best.
-Kimberly did a food segment on Poppa Peeke's Parenting (Little Things). 
-Kimberly's story was featured on the Entrepreneur on Fire podcast: Becoming a profitable work from home mom/dad Entrepreneur.
-Kimberly was included in the We Heart U section of Project You – Love Yourself 2013 by Beth/Role Mommy and her tips for traveling abroad with moms are also included in this issue.
-Kim Moldofsky included Kimberly in her Mom Blogger and Social Media Mom Trends post.  She was mentioned in a section about established "mommy bloggers" re-inventing themselves online by creating a niche blog.
-Maria Bailey used Kimberly as an example of the evolution of bloggers in Engage:Moms On the Run.
–offMetro NY included Foodie City Mom in 7 Mommy Bloggers Pick Top Family Getaways Near NYC.
–Red Tricycle named Foodie City Mom as one of the Best Mom (And Dad!) Blogs of the Big Apple.
–NYMetroParents featured Foodie City Mom as one the best blogs in the parenting world.
–Parenting.com included Kimberly's quote in a What No One Told Me About Motherhood post.
–Foodie City Mom was named one of the Best New Blogs in Queens by Queens Mamas.
–International Association of Women Entrepreneurs Online quoted Kimberly in their Martin Luther King Jr Had a Dream & You Do, Too! post.
More Press Mentions
–Advertising Age regarding FTC rules
–NY Daily News regarding balancing kids and careers
–CNN.com regarding Disney's first African-American princess
–The Associated Press/USA Today/Multiple News Outlets regarding American kids playing video games
–ConsumerReports.org answering the question: "Is it okay to give mom a vacuum cleaner for Mother's Day?"
–Women's World Magazine providing a You Deserve The Best cake mix pick
–The Daily Meal's food blogger talk about their advice for anyone who wants to start writing
–TODAY/msnb as part of the Motherhood 2.0 online village
–The (West Side) Spirit as Best of Manhattan '09 Best Local Blog
–The Grand Rapids Press as a mom blog suggestion – "Geared toward urban parenting, the African-American founder includes a diverse group of mom blog contributors."
–Toys & Family Entertainment Magazine as one of The Most Influential Mom Bloggers
-Other press include mentions on Grandparents.com, The Integrated Mother, several Better TV segments, Child's Play Communications and Moms of Hue.
In addition, below are a few quotes of nice things that people have said about Kimberly based on her speaking at various conferences and panel discussions…
-The Content Council's Panel Discussion: The Age of the Internet Star: We have received fantastic feedback from our attendees on the information you shared and the benefit it gave to them. They really enjoyed your discussion and you certainly gave them a lot to think about!
-Marketing to Moms Coalition and BSM Media's Mommy Blogger Monologues: My most memorable words were — HONESTY AND RELATIONSHIPS! Your Disney example was something I shared immediately with the team and it also really hit home for me and my company — "as long as you are working to fix it just be honest and let people know."
–BSM Media's Multicultural Mommy Blogger Webinar: I've already received several emails from participants that felt it was very valuable information.
-BlogHer Business: "We Don't Know What to Do with You" panel: I was really surprised that more bloggers had chosen this session … and that fewer PR folks had.
-NYC Public Relations Society of America (PRSA) "Mother Knows Best: Meet the Mommy Media": Thanks so much for being a great panelist.
–Pepsico Panel ""Social Mom: What Mom is Talking About in the Value – Focused Economy": Thank you as always, for bringing your smarts and good humor to the panel on Wednesday. You really made a difference.
-Blogalicious 2009 closing "Blog-Life Balance" Panel: I must say that I very much enjoyed your comments and insights over the weekend, especially during the closing panel.
-The 2009 Child's Play Communications Bloggers Brunch "Blogger Panel": You were fabulous…
-2010 Toy Fair Social Media Panel: Marketers + Mom Bloggers : I heard nothing but good things afterward from those who attended! I really believe that to make marketer-mom interaction work, there has to be a continuing dialogue, and the presentation today certainly contributed to that.
-Samsung Home Appliances' "High Capacity Mom" panel: You provided such great insights into the life of a high capacity mom. You were hilarious.
-P&G Media Panel: Thanks again for joining us yesterday! It was super helpful.
-BlogHer'10 The FTC Guidelines: After A Year, Has Anything Changed?: I thought this was one of the most valuable sessions I went to at BlogHer'10.
-Type A Mom Conference: Lose the Mommy Guilt: Juggling Family Life and Blogging: I loved learning about …how to juggle all aspects of your life online and off.
-Johnson & Johnson Beauty Care (re. upcoming parenting trends): Thank you so much for all of your help…