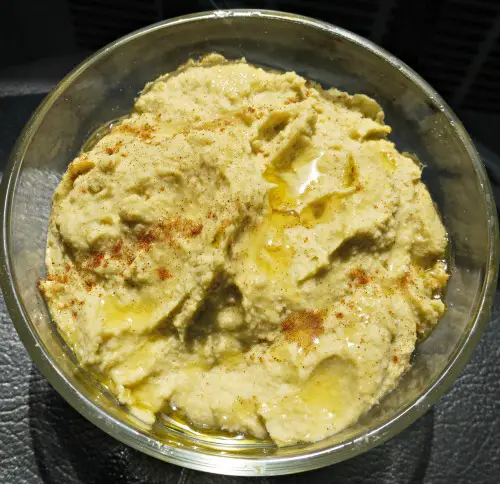 I like hummus. I love hummus with avocado. The best part is that because avocado is so buttery it actually makes preparing homemade hummus even easier. (You don't have to worry about adding additional liquids or olive oil while you're blending the hummus.) Easy and delicious…that equals the best recipe to me! Enjoy…

Easy Avocado Hummus
Ingredients:

1 cup canned chickpeas/garbanzos, drained and rinsed
½ lemon (fresh squeezed with pulp)
2 cloves garlic
1 tbsp tahini
1 medium avocado
½ tsp salt
2 tbsp extra virgin olive oil
Optional garnishes: paprika and chopped parsley

Directions:

Place all of the ingredients (except for the olive oil and garnishes) into a blender**.  Be certain to thoroughly mix the tahini in its jar before adding it.
Blend everything together until the hummus reaches your desired consistency. This should take approximately 3 to 5 minutes. The longer that you puree it, the smoother it will be. Add any additional salt to taste. *If you like a brighter green avocado hummus, you can also add more avocados.
Place the avocado hummus in a bowl. You can drizzle the olive oil over the hummus or create a small well (hole) in the middle of your dish of hummus and add the oil there.
**The blender that I currently use is the High Power Blender
 from Panasonic. (It was provided to me for review by Panasonic.)**
That's it! You can add paprika (like I did) and/or chopped parsley to garnish the hummus if you desire. It's equally good served immediately at room temperature or after being covered and refrigerated.
If that is not simple enough or you just don't want to make your own hummus AND you are in the NYC area, visit the restaurants that are listed below. They all offer amazing hummus. (I actually used their commonalities to come up with this recipe for my simple version.)
– mimi's hummus
– Taïm