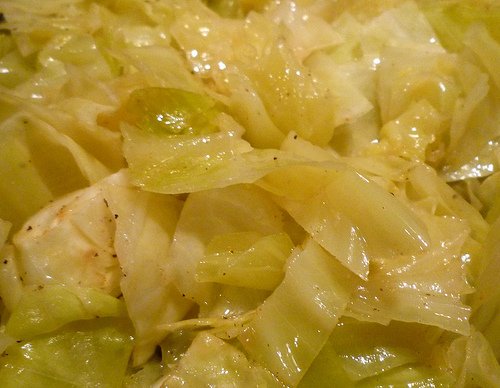 Cabbage is one of my current favorite seasonal vegetables, so it has been a part of our weekly vegetable rotation for the last couple of months. It's a little smelly, but the taste more than makes up for it in my opinion.
Unfortunately, my husband Reggie didn't particularly care for the vegetable…up until this week. The boys even caught him throwing away some of his cabbage a couple of weeks ago! (Sean, in particular, took great delight in sharing that "Daddy didn't eat his vegetables".)
Last week I mentioned to Reggie that since he didn't like cabbage that I would take it off the list even though both Michael and Sean eat it. "Oh, I like cabbage," Reggie said. "I just don't like it cooked in butter." What?! When I asked why he had failed to mention that fact to me, he said something to the effect that I had never asked him. Really? Okaaaay.
Anyway, I sautéed the cabbage in olive oil this week instead of butter. Everyone enjoyed it, so cabbage stays in the rotation. Below is my preferred way to cook cabbage (with butter). However, if you have a "Reggie" in your home, you can substitute 2 tablespoons of olive oil for the 2 tablespoons of butter. Enjoy!
Easy Cabbage Recipe
Easy Cabbage Recipe
Yields: 4 servings
Ingredients:
2 tbsp butter (or olive oil)
½ head of cabbage, chopped
Salt and pepper, to taste
Directions:
Prepare the cabbage: Rinse it off. Remove any wilted outer leaves. Cut the cabbage in half and remove the core. (See Picture 1.)
Slice the cabbage and cut it into square chunks. (See Picture 2.)
Melt the butter (or heat the olive oil) in a large pan that has a cover. Add the cabbage and sprinkle it with salt and pepper. Using a spatula, turn the cabbage over so that both sides get a small coating of butter (or olive oil). Cover the cabbage.
Cook the covered cabbage over a low heat until the cabbage is tender. (I find that takes 15 – 20 minutes when I'm using butter/20-25 minutes when I use olive oil.)
You Might Also Like: