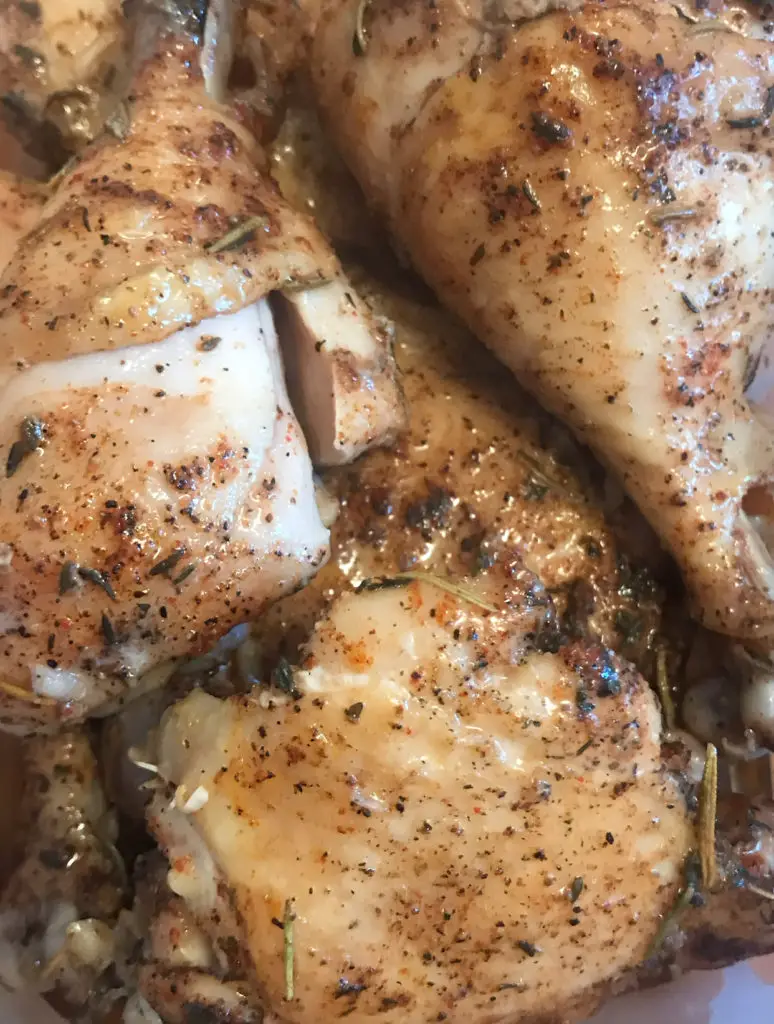 After volunteering in the allergy kitchen at a camp several years ago, I have been extra careful when I cook for people with allergies. That's why I came up with a new simple baked chicken recipe for a friend who has onion and garlic allergies.
I normally season chicken with salt, black pepper, garlic powder, onion powder and paprika as my herbs and spices. For this recipe, I took out the onion and garlic powder and added thyme and rosemary leaves. Since my friend likes dark meat, I oven-baked chicken thighs and legs. I'm happy to report that (even with the herb substitutions) the chicken came out nice and flavorful.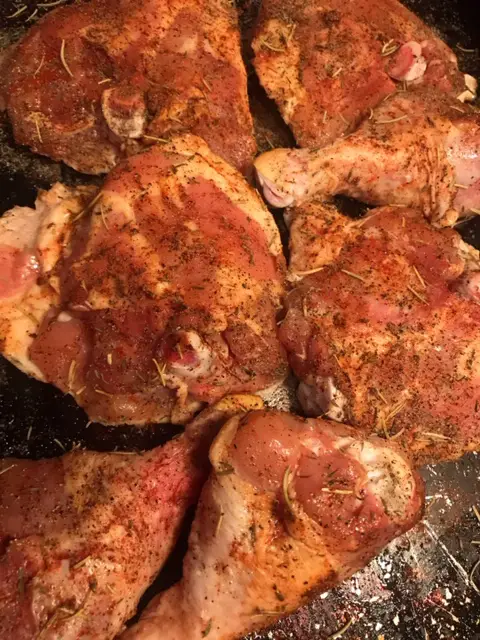 You can bake chicken uncovered for half an hour at a high heat temperature and it comes out fine. Personally, I think that the best way to bake chicken pieces is "low and slow". I bake my chicken at 350 degrees F for a cook time of one hour. (I turn the chicken over half-way through the cooking time.) I also keep the baking dish covered with aluminum foil so that the result is tender, delicious and juicy chicken. (I can't eat dry chicken!)
Simple Baked Chicken Recipe
Rosemary Thyme Baked Chicken
Ingredients:
2 lbs chicken pieces (thighs and legs)
1 tsp dried rosemary
1 tsp dried thyme
salt
black pepper
Directions:
1. Preheat the oven to 350°F. 
2. Sprinkle the chicken with rosemary and thyme. Season the chicken with the salt and pepper.
3. Place the chicken in a baking dish. Cover with aluminum foil and place it in the oven.
4. Let the chicken bake for an hour. (At the 30-minute mark, uncover the chicken, turn it over, recover with the foil and place it back in the oven.)
Recipe Notes
I had dried herbs in my cabinet but you can use fresh herbs instead. The general "rule" is that 1 teaspoon of dried herbs is equal to 1 tablespoon of fresh herbs. (Source: Livestrong.com)
If you want your chicken to be even more flavorful, you can marinate it overnight. Use the same herbs, salt and pepper. Just add two tablespoons of olive oil to make the marinade. Place everything in a gallon-sized freezer bag, seal the bag and leave the chicken in the refrigerator overnight. Use the rest of the simple steps in the recipe to bake the chicken the next day.
At my friend's request, I sent a broccoli and carrot dish and baked potatoes for the sides. I made the baked potatoes side dish but I sent Cascadian Farm Organic, Hearty Blend (Farro, Broccoli, Carrots, Chickpeas) as the broccoli and carrot dish.

If I was making this easy baked chicken recipe for my family, I would prepare different sides. At this time, the vegetable would be string beans, roasted broccoli or asparagus and the carb would be mashed potatoes or basmati rice.
It's good to have a variety of great recipes available to prepare for friends and family. I feel confident preparing this simple baked chicken recipe when someone requests recipes without onions or garlic due to allergies, intolerances or even for preference reasons. No onions? No garlic? No problem (with this healthy, easy recipe)!