I grew up snapping green beans on my Big Mama's porch along with my sisters. That period of my life holds so many sweet, simple memories. That is why I'm sharing how to cook southern green beans without meat.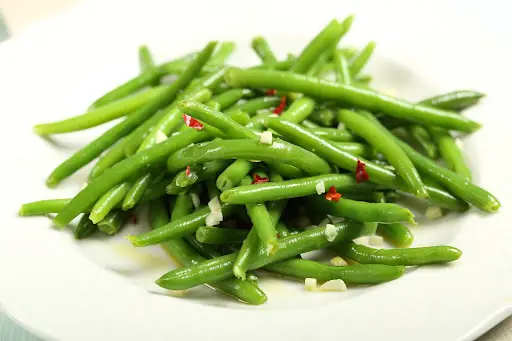 I'm all grown up with a family of my own now. Although green beans are not my favorite vegetable, my husband and both sons eat them without complaining so I prepare them practically every week.
I learned my current favorite way to prepare the beans from the Camp Orenda camp director, David. I liked the way that he prepared the string beans for us over the campfire one night. (Since we had a personal cook, I guess that it was more of a "glamping" trip than a traditional camping experience!)

Anyway, I noted what he included in the dish, added a pinch of red chili flakes for some heat and recreated the recipe at home. It's both easy and tasty…the perfect combination!
Southern Green Beans Without Meat
David's Fresh String Bean Recipe

Yield: 4 Servings
Ingredients:
½ lb fresh string beans, trimmed
3 cloves fresh garlic, minced
pinch (1/16 tsp) red chili flakes
1 tbsp extra virgin olive oil
1 tsp rosemary
salt and black pepper, to taste
Directions:
Cook the string beans in a pot of boiling water for 5 minutes.
Once the string beans are cooked, immediately pour them into a colander and pour cold water over them. (This blanching helps set the color.)
Meanwhile, sauté the garlic in the olive oil in a large frying pan on low heat.  Once the string beans are blanched, add the beans and rosemary to the pan with the garlic and oil. Mix everything together and cook for approximately 3 minutes on medium-low heat. (We like our string beans to be prepared a little crisp, so 3 minutes was perfect timing.  If you prefer your beans to be a little softer, cook them for a few minutes longer.) Add salt and pepper to taste before serving.
If you found this recipe helpful, please share it. Thanks!
You Might Also Like
{Top post image purchased from depositphotos.com}
{This post has been updated and republished. The recipe was originally posted on November 3, 2011.}