I almost had my "Southern Girl" card revoked…because I had forgotten how to make collard greens! I figured it out though. That is why I am sharing this best southern collard greens recipe with you.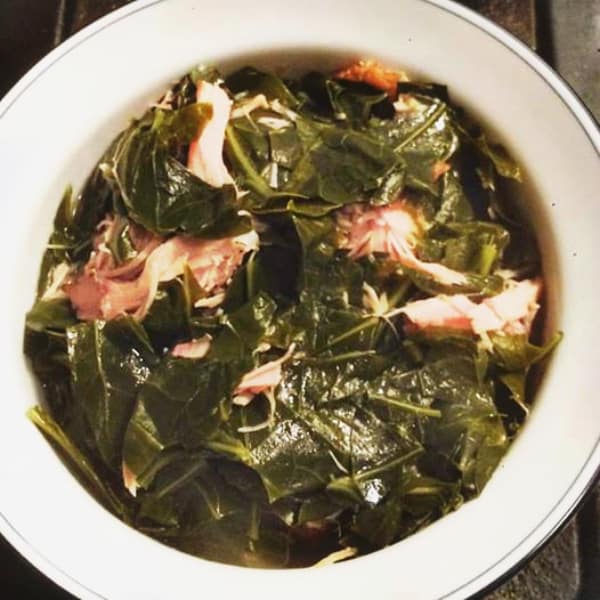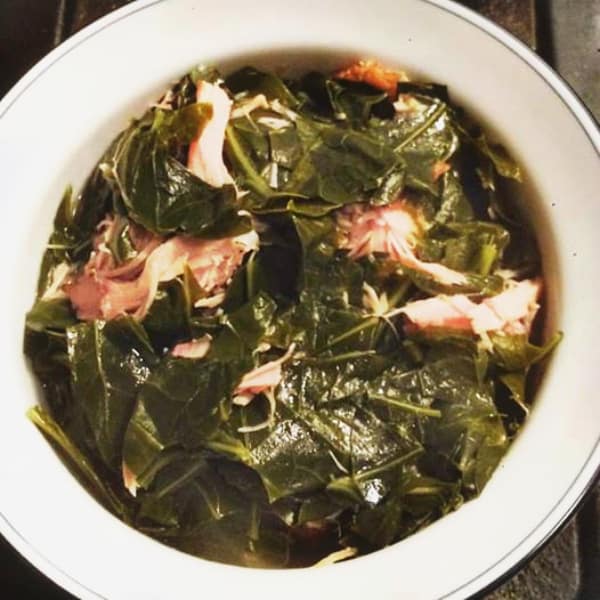 The last time that I made collard greens from memory was over 15 years ago. I had a "soul food" themed dinner at my home and one of the guests was my friend (now husband) Reggie.

One of my Japanese classmates was also there. She was enjoying my collard greens until she found out that they were seasoned with smoked turkey necks. I can remember her eyes getting big as she asked (to make sure that she had heard correctly) "Smoked turkey necks?" Yes, girl…yes. Those greens were awesome!
Anyway, I have been eating canned collards (Glory or Sylvia's brands) from that time up until a couple of weeks ago. I decided that collard greens would be the last recipe in my soul food-themed ebook that is coming out in December so I set out to get the best southern collard greens recipe.

My mom reminded me how we cook them when I called her. I was getting closer. Then, I remembered that my friend Theo is "friend-famous" for her collard greens. (Whenever there is a potluck, we all look forward to Theo's greens.)

I asked Theo if she would share her collard greens with smoked turkey wings recipe with me and she did. I then asked if I could share her recipe with all of you and she was kind enough to agree to that also. Theo's last name is "Grate" so I dub these collards "Grate's Great Collard Greens".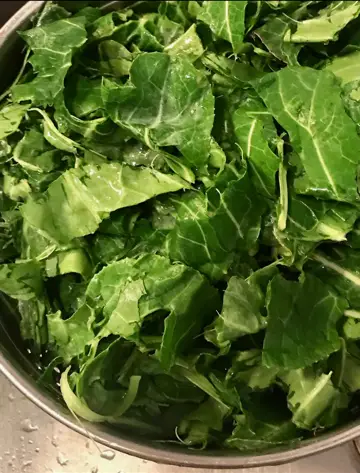 Best Southern Collard Greens Recipe
Grate's Great Collard Greens
Ingredients:
3 lbs collard greens
1 smoked turkey wing (approximately 1.5 lb)
1 tbsp salt
1 tsp white sugar
1 tbsp hot sauce (preferably Tabasco or Texas Pete's)
Directions:
1. Clean the greens by rinsing them well. Remove the stems and chop or tear the greens.
2. Fill a large pot with 3 quarts of water and add the turkey wing to the pot.
3. Bring the water in the pot to a boil. Cover the pot and cook the meat over medium heat for 2 hours. (The meat should easily come off the bone.)
4. Take the wing out of the pot and remove the bones. (Leave the seasoned water in the pot.)
5. Add the salt, sugar and hot sauce to the water in the pot. Stir, and add the boneless turkey meat back into the pot.
6. Place the collards in the pot and let them boil over medium-high heat for 5 minutes. Stir occasionally so that they will not stick.
7. Cover the pot and let the greens simmer in the pot over low heat for 45 minutes to an hour stirring occasionally.
8. Once the greens are cooked, drain the liquid before serving.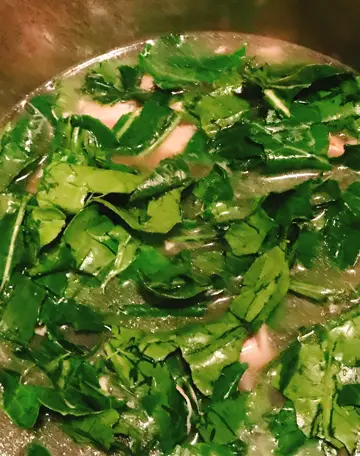 Recipe Notes
1. If you don't know how to remove the stems from collard greens, this video is helpful:
2. Whatever you do, don't let the collards burn. As my mom says, "'The worst taste is burnt collard greens."
3. Lastly, once the greens are cooked, you can season them to your taste. Add a little seasoning at a time.

Personally, I like to serve my collards with vinegar as an option on the side. Other people like to add onions, garlic, and pepper. The great thing about a basic recipe (like this one) is that you can adjust it to your family's preferences.
If you found this recipe helpful, please share it. Thanks!
What to Serve With Collard Greens