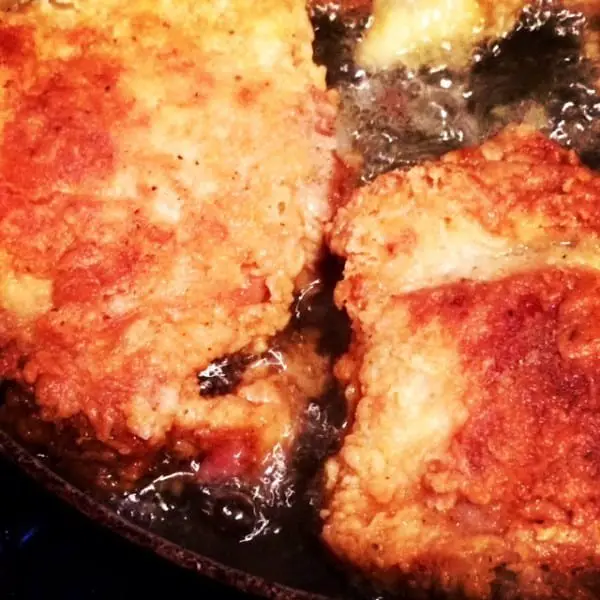 Ask 10 different people (with southern roots) how to cook fried chicken and you will probably get 10 different answers. Personally, I use a fried chicken recipe without buttermilk or egg most of the time.

Some Southerners use an egg wash while others don't. Some put a cover on the frying pan while the chicken fries while others don't. The truth is that we're all right, because it's based on how you like your final chicken prepared.

I have used an egg wash before. It makes the chicken have a thicker, crispy batter. Honestly, it doesn't make that much of a difference so I usually skip it. I have also fried chicken with a cover on top. It does make the chicken a little bit more tender and juicy. I like my chicken crispy on the outside and juicy on the inside though, so I usually cook my fried chicken uncovered.

In any event, my family and friends enjoy this special treat. I hope that yours will too!
Fried Chicken Recipe Without Buttermilk or Eggs

Easy Southern Fried Chicken
Ingredients:
1 1b chicken (thighs and chicken legs), cut into pieces
2 cups all-purpose flour
Oil for frying (Some people swear by Crisco, lard or peanut oil, but I just use vegetable oil.)
Seasoned salt and black pepper
Directions:
1. Season the raw chicken pieces on both sides
2. Cover the seasoned chicken with flour. (I place flour in a bag and shake a few pieces of chicken in it at a time until they are thoroughly covered with flour.)
3. Season the floured chicken pieces on both sides.
4. Fill a frying pan ½ way with the oil and heat it over a medium flame. (You will know that the oil is ready for frying the chicken when you can "bounce" a couple of drops of water off it.)
*5. Using tongs, place the chicken in the oil and allow it to fry for 15-20 minutes over a medium heat. Turn the chicken over and fry it for another 15-20 minutes on the other side over a medium heat. Cut a slit into the thickest piece of chicken to make sure that it is thoroughly cooked. (Bloody fried chicken is the worst!)
6. When the chicken is finished frying, place it on a plate covered with paper napkins. (The napkins will absorb the excess oil, so that the fried chicken won't be "greasy".
*The length of time that you fry your chicken depends on how soft or crisp your family enjoys it. As I mentioned before, I like my fried chicken crispy on the outside and juicy on the inside, so I usually let my chicken cook for 20 minutes on each side.

If you found this recipe helpful, please share it. In addition, consider signing up for my weekly email newsletter so that you don't miss future updates. Thanks!
What to Serve With Fried Chicken