Do you prefer mashed potatoes or rice? I am definitely in the mashed potatoes camp. That is why I'm sharing how to make creamy mashed potatoes from scratch with milk and butter.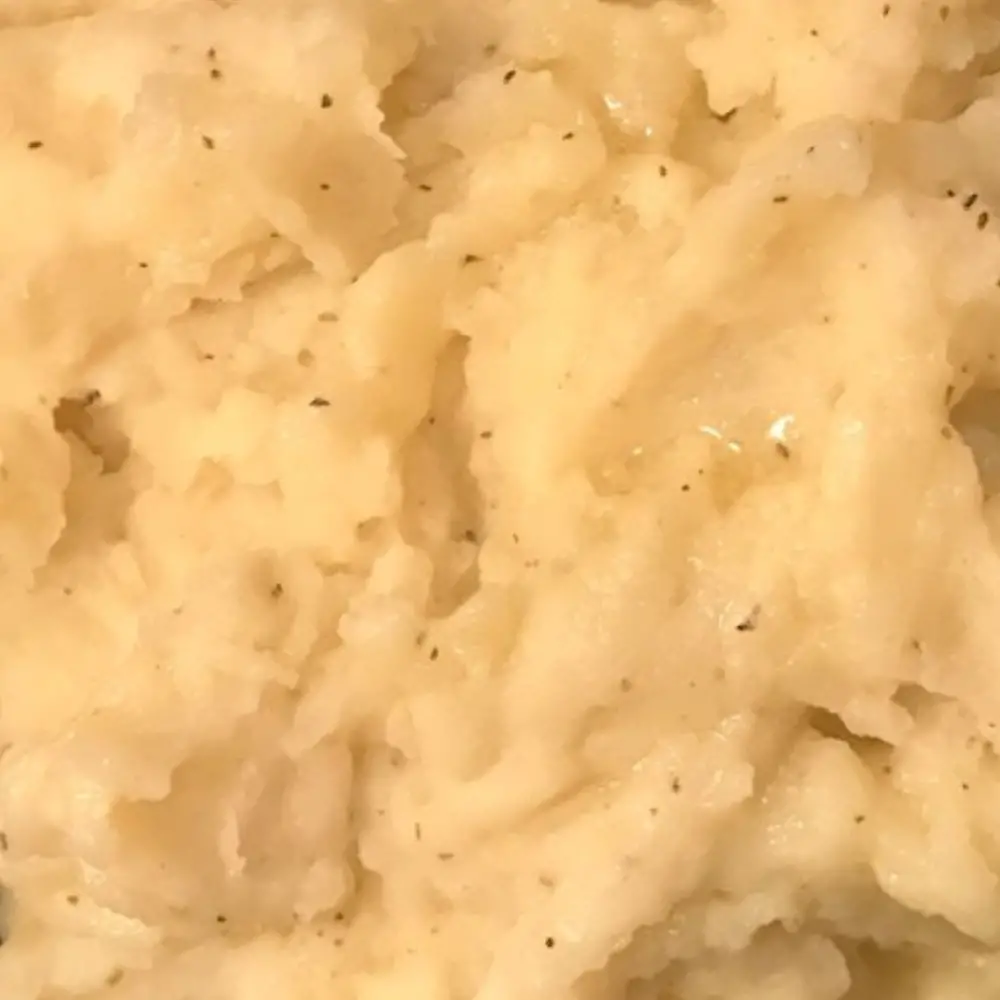 Growing up in Virginia, mashed potatoes were a staple in my family. I only remember eating rice when we ordered Chinese food. Unfortunately, I'm the minority in my household… I'm the only mashed potato lover.
My husband and sons are solidly rice people. That is one of the reasons that I love cooking for gatherings of friends and/or family. I get the chance to prepare things that I like to eat…without the need to eat the entire dish.
That is exactly what happened a couple of weeks ago.  A group of friends hosted a British-themed potluck going away party for a mutual friend that was going abroad to study at Cambridge in England. I chose to bring shepherd's pie. (I'll post that recipe tomorrow.) 

Another friend brought shepherd's pie to the party too. It was totally fine because her version was very different from mine and I enjoyed both of them.  As we were discussing cooking the dishes, she mentioned that it had taken her a long time to prepare it. I was surprised because mine had only taken a little over an hour to prepare…and over half of that was baking time. 

As we talked more, I realized that it was the mashed potatoes part of the shepherd's pie that was her time killer.  So, I'm going to share how to make creamy mashed potatoes from scratch – with no peeling, cubing and boiling of the potatoes.

This quick and easy homemade mashed potatoes recipe also leaves room to add in whatever you like at the end (i.e. minced garlic, bacon, or cheese).  The sky is the limit!
How to Make Creamy Mashed Potatoes From Scratch
Quick and Easy Mashed Potatoes Recipe
Yields: 4 – 6 servings
Ingredients:
3 large white potatoes
1 stick of butter, unsalted
3/8 cup of whole milk
Salt and black pepper, to taste
Cooking Instructions:
Microwave the potatoes (with the skin on) until they are soft to the touch. (This will take approximately 15 – 20 minutes depending on your microwave's temperature and the exact size of the potatoes.)
Place the potatoes in a large pot. Place the pot in the sink and pour cold water over the potatoes.  Gently slide the skins off the potatoes, leaving the potatoes intact.  Throw the potato skins in the trash.
Give the potatoes one last cool rinse and drain all of the water out of the pot.  At this point, you can transfer the potatoes to a large bowl in order to mash them.  You can also just do what I do and mash them right in the pot. It saves time and messes up fewer dishes.  Mash the potatoes with a potato masher. (If you don't have a masher, it's fine. The potatoes are pretty soft at this point, so you can use any large spoon.)
Add ½ a stick of the butter and ¼ cup of milk along with a generous sprinkling of salt and pepper to the potatoes. Mash everything together until it is well mixed. Then, take a small spoon and taste the potatoes to see if they are at your desired flavor and consistency.
I like for my mashed potatoes to be flavorful and creamy, so I add the other ½ a stick of butter and 1/8 cup of milk along with another sprinkling of salt and pepper. (Then, I try not to eat all of the potatoes before serving them!)
Recipe Notes
-I normally use seasoned salt and freshly ground pepper in most of my cooking but not in mashed potatoes. I think that they are best when I use regular table salt and plain black pepper.
-Mashed potatoes are not an exact recipe, because everyone likes them prepared differently.  This recipe will produce creamy ones, but I know some people who like them lumpier or drier.  Just have fun and experiment until you find the flavor and texture that you and your family enjoy the most!
If you found this recipe helpful, please share it. Thanks!
What to Serve With Mashed Potatoes