It has become a family tradition that I bake "my guys" an apple pie after we go apple picking, so I made one yesterday.  Last year, I used a recipe from one of Reggie's former bosses because he claimed that it was the "best apple pie ever". 
This year, I revisited the recipe and tweaked it to our family's tastes.  I must agree with Reggie…it is the best apple pie that I have tasted too. My sons begged for seconds and declared that it was better than the pie that we bought at DuBois Farm.  In any event, this is the perfect time to make apple pie.  (You can easily get apples for 99 cents a pound in NYC right now.) Your loved ones will thank you.
Best Apple Pie Recipe
"Best Apple Pie Ever"
Ingredients
2 pie crusts (You can make them from scratch or buy them pre-made.)
3 lbs apples (I used a combination of Gala, Red Delicious, Golden Delicious, and Cortland apples.)
2 tsp fresh lemon juice
3/4 cup packed light brown sugar
1/4 cup granulated sugar
1 tsp real vanilla extract
1 tsp ground cinnamon
1 tsp pumpkin pie spice*
1/4 cup all-purpose flour
3 tbsp unsalted butter, cold and cut into small pieces
Milk (for "wash")
Sugar and cinnamon (for sprinkling on pie crust)
Instructions
Preheat the oven to 400 degrees.
Peel, core and slice apples to your desired thickness level.
Mix together the apples, lemon juice, sugars, vanilla, cinnamon and pumpkin pie spice in a large bowl. (Then, let the mixture sit for a few minutes. Taste it to see if you should add more sugar or spices to get it to your desired flavor level. You can always add a bit more flavor based on the number and natural sweetness of the apples used.) Once your apples are at your preferred taste level, add the flour to the mixture in order to thicken the pie filling.
Place the apple filling into the bottom pie crust layer, making the highest point of the filling in the center. Dot the small pieces of butter on top of the apple filling.
Add the top crust. Brush the milk on the top crust. Then, sprinkle the crust with a pinch of cinnamon and a pinch of sugar. Gently make several slits in the top crust (to serve as steam vents).
Place the pie on a cookie sheet and put the sheet on the middle rack of the oven. Let the pie cook at 400 degrees for 20 minutes/until the crust just starts to turn golden brown. Then, reduce the oven temperature to 350 degrees. Continue baking the pie for an additional 50 minutes/until the crust is golden brown and you can see that the pie juices are bubbling.
Remove the pie from the oven. Let it cool at room temperature for at least 30 minutes before serving the pie.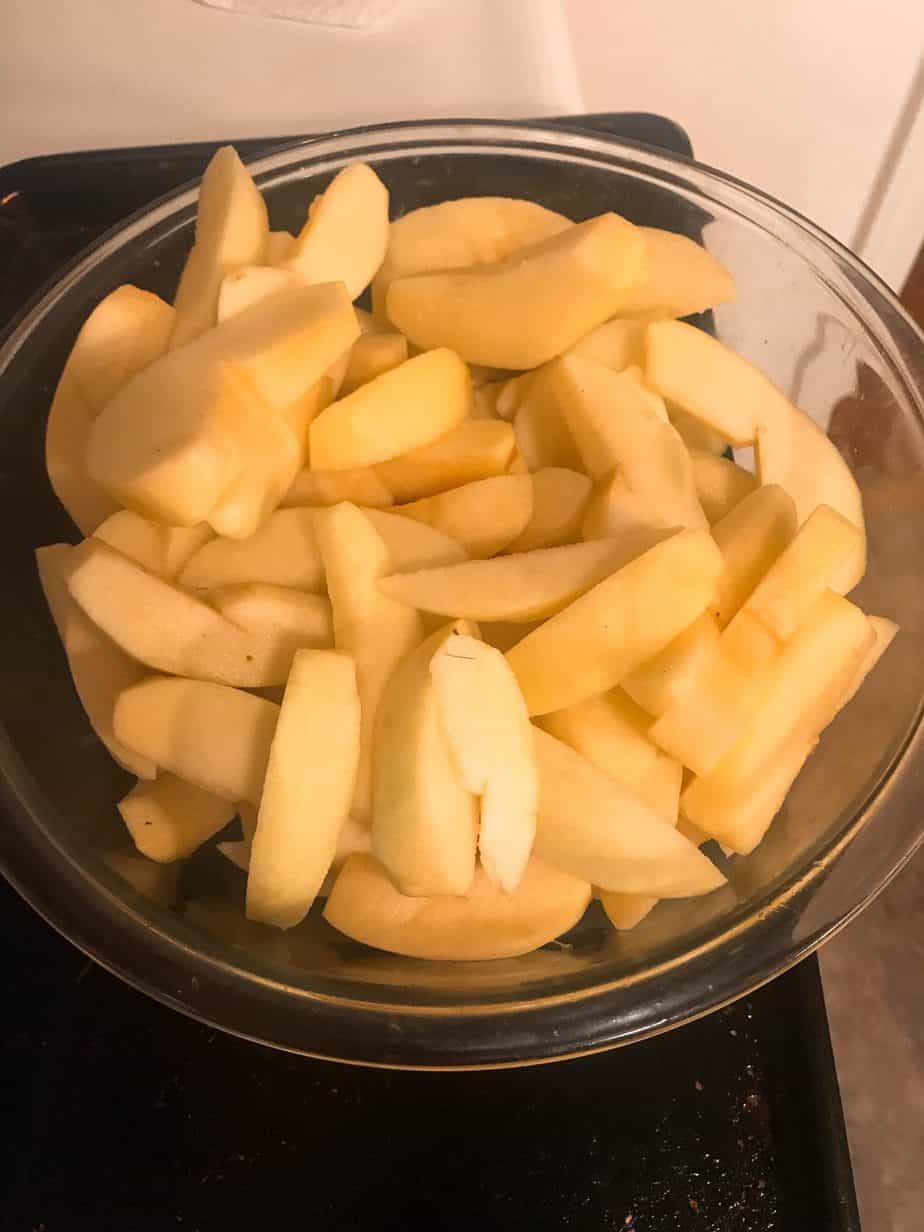 Best Apple Pie Recipe Notes
-*It can be hard to find pumpkin pie spice, so I make my own with this CDKitchen recipe for pumpkin pie spice.

I don't use pumpkin pie spice for many recipes, so I just halved the ingredients for the pumpkin pie spice recipe that I linked to.  It was still more than enough for this "best apple pie recipe". 
-Even if you are primarily a seasonal baker (like I am), I highly suggest purchasing a fruit peeler. It makes everything go so much more quickly.
-Before I start to season my apples, I pile them in the pie crust to see (approximately) how many I will really need.
If you found this recipe helpful, please share it. Thanks!
You Might Also Like
{This post has been updated and republished. This recipe was originally posted on October 25, 2010.}