Each mom is unique. That is why Mother's Day gift guides can be a challenge. This year, I'm only sharing three Mother's Day gift-themed posts. This one is for home cooks since many of us have prepared more home-cooked meals than ever before during this past year.

The second post will be for sleep lovers and the third will simply be what I'm asking for during the month of May. After this last year, I think that all moms need more than one day of celebration this year. My birthday also falls in May so I get double gifts. 😊 
Anyway, my overall picks for home cooks haven't changed since my holiday 5 Best Kitchen Gift Ideas for Home Cooks 2020 post. I started thinking about helpful "beyond the essentials" kitchen items that I have or want though. I think that one (or a combination) of these affordable kitchen utensils would be a thoughtful gift idea for moms who love to cook.
Kitchen Gifts for Home Cooks
1. Basting Brush: These are great for cooking both indoors or outdoors on the grill.
2. Basting Syringe: This lets you inject marinades into the meat that you are preparing. It is great for chicken, turkey, ham and the like.
3. Can Opener: You don't realize how important a quality manual can opener is until you're struggling to open a can. Home cooks will be so glad that you "upgraded" their can openers.
4. Food Thermometer: There are various types of food thermometers. They all take the "it looks done" guesswork out of cooking meals. You can see if the required internal temperature has been reached by using a food thermometer.
5. Fish Spatula: Also called slotted turners or chef's turners, this kitchen utensil makes it easier to flip and remove fish fillets from its cooking pan without tearing the flesh. They are multipurpose and can be used for other foods besides fish too.
6. Oil Mister Spray Bottle: Home cooks can use this to mist olive (or any other type of) oil. It's a healthier, "greener" alternative to an aerosol spray can oil. Sprays are great for cooking in general. If the gift recipient owns an air fryer, they will especially love this.
7. Spatula: I think of Jennie when I use the KitchenAid spoon spatula from her event many years ago. Small gifts can be special!
8. Vegetable Peeler: Home cooking requires peeling various fruits and vegetables. I especially appreciate using my peeler for potatoes and apples. Random trivia: The pointed end of your peeler is designed to remove potato eyes. (I didn't know that initially.)
9. Whisk: They come in a variety of shapes and sizes. A balloon whisk is an especially great gift option. It can be used to smoothly blend food ingredients by hand.
Bonus Pick (for Home Cooks Who Own an Air Fryer)
Magnetic Air Fryer Cheat Sheet: This is the only air fryer accessory that I have bought so far. It's so helpful to have the general air fryer cooking times visible. I just have it on the side of my refrigerator.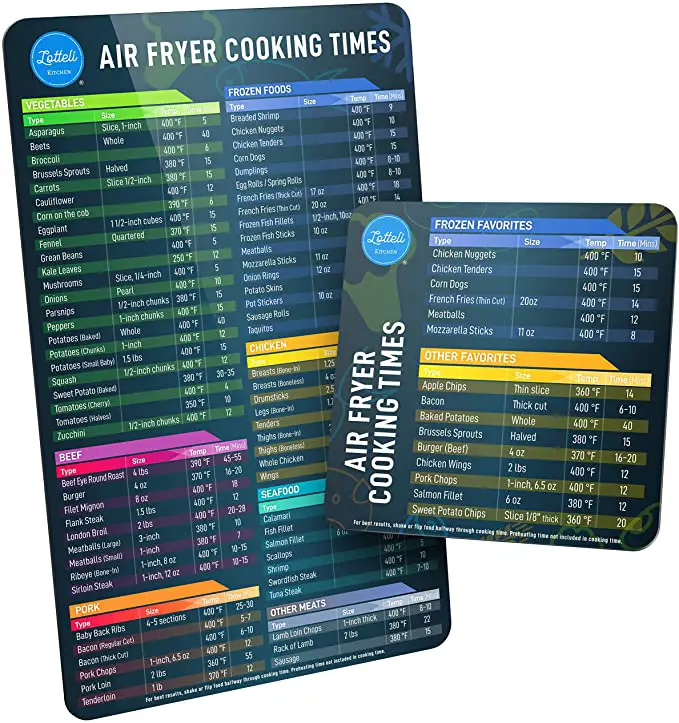 These are all perfect kitchen gift ideas under $20 that home cooks will love. For other unique gifts for moms who love to cook, visit Etsy's "Gifts for cooking mom" page. They have some wonderful options.

If you found this post helpful, please share it. In addition, consider signing up for my weekly email newsletter so that you don't miss future updates. Thanks!
You Might Also Like