It was meant for me to do a MOOSOO air fryer review…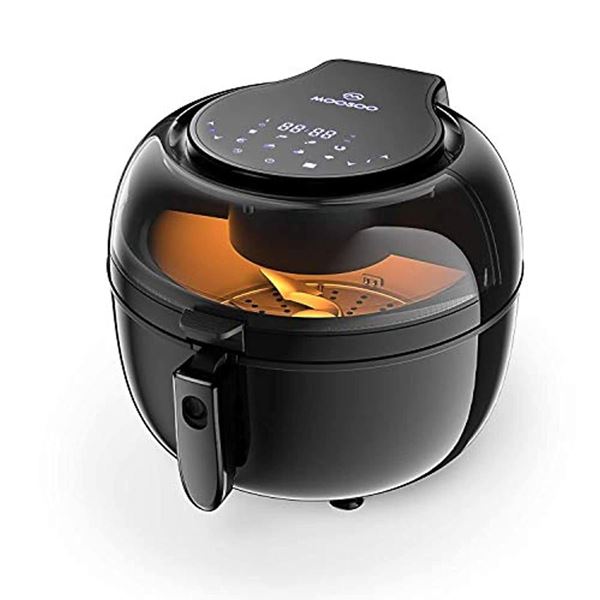 Credit: MOOSOO
Recently, I reinstalled my Instagram app on my phone so that I could share some random life moments. (I'm at @nycmominthecity on Instagram.) I'm glad that I did because a MOOSOO rep connected with me there to see if I would like to try out one of their air fryers. I agreed.
I had skipped the whole Instant Pot craze due to NYC counter space issues. So many friends and family members have been raving about their air fryers though. They love that they can make delicious fried food favorites in a healthier manner since the air fryer operates likes a convection oven. (Air fryers cook food by circulating air around the food.) This creates even, faster, "crisp on the outside" dishes.

I read through the various online reviews before choosing the MOOSOO 8-in-1, 7QT Large Electric Air Fryer Oven MA20 for my MOOSOO air fryer review. Since I don't like to waste either my time or yours when reviewing things,I wanted to make sure that it was worth accepting. Thankfully, the fryer lived up to its reviews. It's great!
This is definitely not a "top" or "best" air fryer review post. I haven't tried any other brands so I have no basis for comparison. Rather, it is my customer review.
MOOSOO Air Fryer Review
First Impressions of the MOOSOO Air Fryer
I was pleasantly surprised by the accessories (a food clip/tongs, oven gloves and a small pad) that are included. They are very helpful.
The instruction manual is pretty comprehensive and includes some cooking presets to use. I'm more of a "learn by doing" person though so I needed to push the various settings in order to see what worked best.
There are 8 selectable preset menus. I have been experimenting on my own with timings and temperatures but I will try the presets.
Reggie's favorite feature is that the air fryer is easy to clean. (When I cook, he cleans…and vice versa.) The removable frying tank and tray definitely help to save time.
The air fryer comes with a 100-recipe cookbook. I'm not looking at it a lot because I want to come up with my own recipes. My husband Reggie has started looking through it and making notes of what he wants to make though.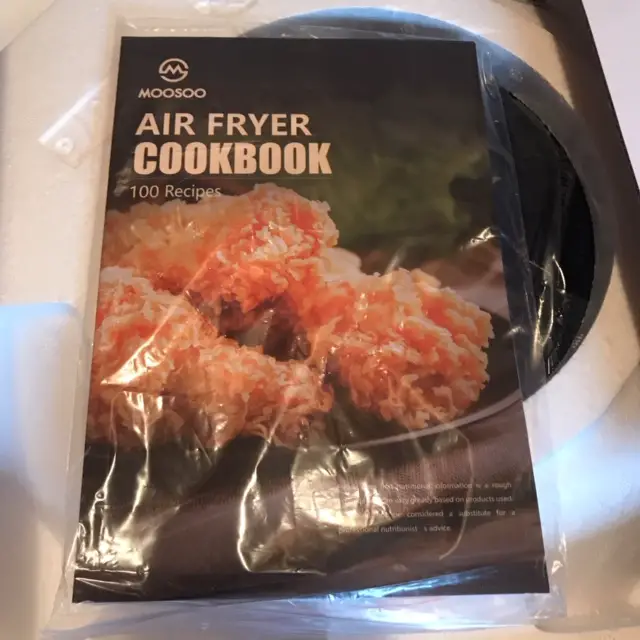 Air Fryer Foods
The day that the MOOSOO 7 qt air fryer arrived, ribs were on the menu so I made some BBQ air fried ribs.
As I noted, they are better than my slow cooker ribs but not as good as the"low and slow" oven-baked ones that I make. (Next, I need to add the oven-baked and air fryer rib recipes to this site.)
I have been like a kid with a new toy. In the last week, I have used the air fryer to make the following:
Bacon (crisp)
Burgers (juicy and flavorful)
Chicken legs (nicely browned on the outside, tender on the inside)
Parmesan pork chops (as good as pan friend ones)
French fries (They were fine but I want to redo them using the preset.)
Salmon (perfect texture)
I'm not sure how often I'll be adding air fryer recipes to this site yet. Please let me know at [email protected] if you would like more air fryer recipes. Meanwhile, I started an Air Fryer Recipes for Beginners page on Facebook, where I'll be sharing a couple of recipes a week. (My Easy Soul Food Recipes Facebook page has over 38,000 followers so I think that people like specialized food pages. We'll see…)
Additional Thoughts
Initially, I was unsure about how often I would use an air fryer because I don't really fry a lot of my dishes. I'm happy to note that it also works great for items that I normally bake or grill too. As such, I am thrilled that the MOOSOO air fryer is now taking up counter space in my kitchen.
Now…what should I air fry next?
Discount
If you don't have an air fryer yet, MOOSOO was kind enough to share a 15% discount code on the MOOSOO 8-in-1, 7QT Large Electric Air Fryer Oven (MA20) for Mom in the City readers. Simply use the code 15MS for the discount. *Just note that you will need to order directly from the MOOSOO site in order to get the discount.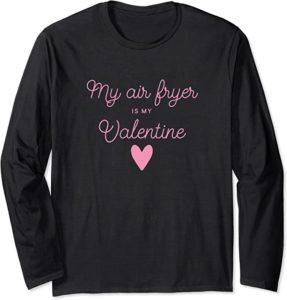 If you enjoyed this post, please share it. In addition, consider signing up for my weekly email newsletter so that you don't miss future updates. Thanks!
You Might Also Like