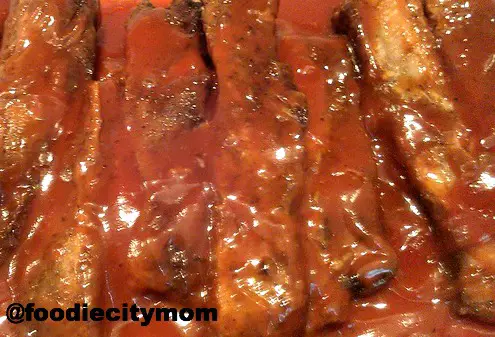 If I had to pick one blogging event that impacted my family's menu the most, it would be the Whirlpool Event with Chef Carla Hall one that I wrote about. I have been making her pork dry rub mix every time that I make pork spare ribs. The rub is so perfect that I stopped using barbecue sauce. (If she doesn't bring that rub to market by the holiday season, I will be making it as gifts for my pork-loving friends. I love it that much.) My husband Reggie likes barbecue sauce with his ribs, so I have started making the barbecue sauce also. It's so simple to make and it blends well with the spices from the rub. Enjoy this Ribs in Crock Pot Recipe!
Perfect Crock Pot Pork Ribs
Yield: 4  servings

Ingredients:
3 pounds pork spare ribs
Salt
Directions:
1. Sprinkle salt over the ribs. Then, cover them with the pork dry rub mixture. Place them in a covered container and refrigerate overnight.
2. Take the ribs out of the container and place them in your slow cooker. Cook the ribs on the low setting for six hours.
3. Pour the barbecue sauce over the ribs and serve.