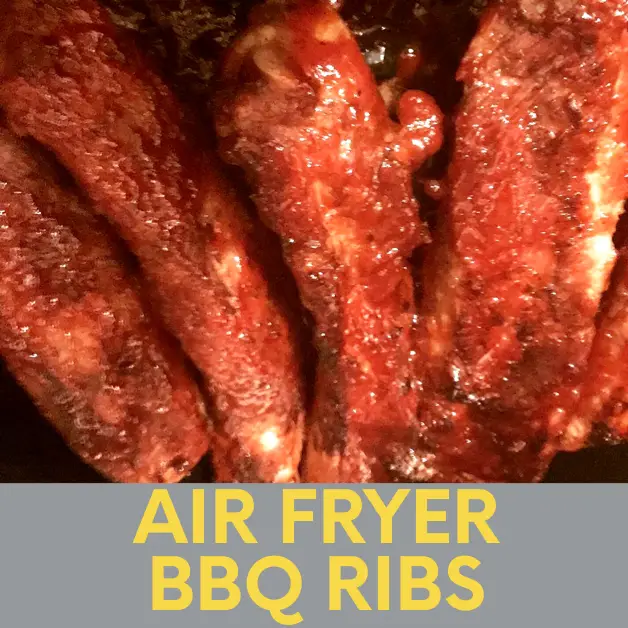 As I mentioned in my air fryer review post, I'm currently obsessed with my new air fryer. I mentioned ribs so I want to share how to easily make air fryer ribs with you.
Air Fryer Ribs Recipe
Air Fryer Ribs

Ingredients:
Full slab of bone-in pork ribs
Olive oil
Preferred rib seasonings
Cooking spray
1/2 cup of barbecue sauce
Directions:
1. Preheat the air fryer to 400°F for 5 minutes.

2. Coat the ribs with olive oil on both sides. Then, sprinkle both sides with your preferred seasonings. (I use a pork dry rub mixture when I have the time. In a pinch, I'll just use Lawry's seasoned salt and black pepper though.) Massage the seasonings into the ribs.

3. Slice the ribs. Some people cut them in slabs of 3 ribs. I like to divide them into individual rib slices though.

4. Spray the air fryer basket with a light coating of cooking spray. As an alternative, you can brush the basket with olive oil.
5. Place the ribs in the basket meat side down and let the ribs cook for 30 minutes. (Turn the ribs over at the 15-minute mark.)
6. Once the ribs are cooked, cover them with your favorite BBQ sauce. I make a homemade barbecue sauce or use Sweet Baby Ray's Barbecue Sauce.
7. Air fry the ribs for an additional 5 minutes.
Recipe Notes
-You can use different bone-in pork ribs for this recipe. I alternate between baby back ribs and St. Louis style spareribs.

-You can serve the ribs with additional sauce if desired.
Sides to Serve With BBQ Ribs
I like to serve my ribs with mashed potatoes along with roasted broccoli. When asked, I also make the following 7 sides to go with BBQ ribs:
I hope that you enjoy your air fryer ribs and the sides that you choose to serve with them. If you enjoyed this post, please share it. In addition, consider signing up for my weekly email newsletter so that you don't miss future updates. Thanks!