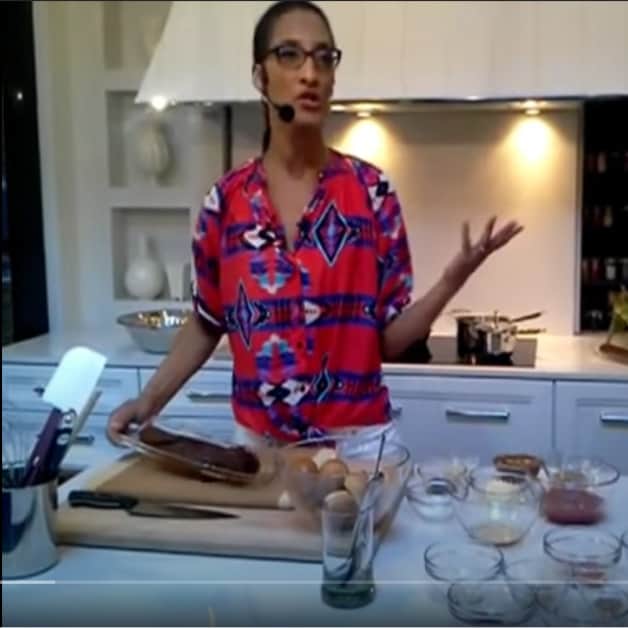 On Tuesday night, I went to Rockefeller Plaza for a cocktail reception that was being held by Whirlpool in honor of their contributions to the House Beautiful Kitchen of the Year 2012. While there, I ran into a fellow blogger Jen Singer. It was great to catch up with her. (If you or any parents that you know are parenting with cancer, you must check out her new site, Parenting with Cancer. Jen is such an inspiration!)
Anyway, several of the new Whirlpool Kitchen Collections' appliances are featured in this year's House Beautiful Kitchen of the Year. You can see several of the items demonstrated in the videos that I shot of Chef Carla Hall preparing an (easy to make!) pork dry rub and BBQ sauce recipes. Chef Hall is both talented and funny. I learned a lot, laughed and ate great food…the most excellent combination!
Pork Dry Rub Mix:
(Recipe Courtesy of
Chef Carla Hall
)
Ingredients:
1 teaspoon Ground Thyme
2 teaspoon Chili Powder
4 tablespoon Brown Sugar
2 teaspoon Black Pepper
2 teaspoon Ground Cumin
2 teaspoon Garlic Powder
1 teaspoon Cayenne Pepper
1 teaspoon Onion Powder
1 teaspoon Paprika
Directions:

Combine all of the ingredients together into a bowl and mix well.
Barbecue Sauce

(Recipe Courtesy of
Chef Carla Hall
)

Ingredients:
1 cup Ketchup
1/4 cup White or Apple Cider Vinegar
1/4 cup Brown Sugar
2 tablespoon Butter
1 tablespoon Worcestershire Sauce
1 tablespoon Lemon Juice
1/2 teaspoon Salt
1/4 teaspoon Cayenne Pepper
Directions:

Mix all of the barbecue sauce ingredients together into a small pot and simmer over a low heat for 15 – 20 minutes. Adjust salt, if necessary. Serve at room temperature. (In the demo, Chef Hall added the butter after simmering the other ingredients together.)