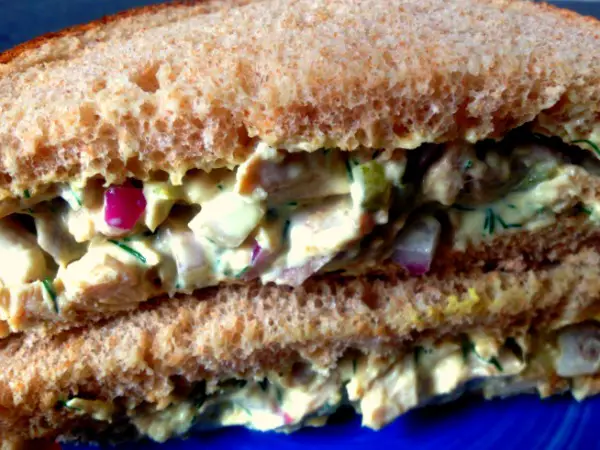 We are going to a family reunion soon and my kids are so excited. They have been bouncing off the wall (and each other!) today, so I needed to separate them for my sanity's sake. I asked Sean to help me write down the recipe for the kids' favorite summer lunch…chicken salad sandwiches. He was such a great little assistant – jotting down notes and taste testing. It gave the boys' a break from each other for a little while and we had a great lunch too.
In any event, this is the recipe that we use. Sometimes, we include the dill and red onion. Sometimes, we don't. We also rarely add salt and pepper, because the leftover chicken (a combination of white and dark meat) is usually flavorful. The great thing about this recipe is that it is easy to adjust to your family's taste buds. If you can make this a few hours before you are ready to eat it, it's even better BUT you can eat it right away in a pinch (like we did today).
Coleman's Easy Chicken Salad
Yield: 4 servings
Ingredients:
2 cups cooked chicken (skin and bones removed), cooled and diced
½ cup mayonnaise
1 ½ tsp mustard
3 tsp sweet pickle relish
2 tbsp red onion, finely diced
1 tbsp fresh dill, chopped (or 1 tsp dried dill)
Salt and pepper to taste
Directions:
1. In a medium sized bowl, gently mix everything together well.
2. Chill and serve.

Variations:
-My family doesn't especially like fruit or nuts in our chicken salad, but if your family does, below are some great options:
Fruit: seedless grapes (halved) or diced apples
Nuts: cashews, walnuts or pecans

Besides being super easy, the great thing about this chicken salad is that it can be used in a variety of dishes.  We mainly eat it in sandwiches or romaine wraps, but I have also mixed chicken salad in with tri-color pasta for a nice, light summer lunch or dinner.  However you eat it, enjoy!