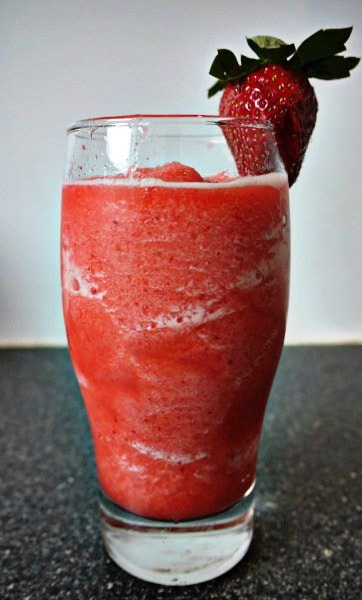 Are you a breakfast person? I must admit that I am not. I make sure to have something though, because it is important. Smoothies are one of my favorite things to have in the morning. I have mine with a bit of leftover protein (i.e. chicken) for a great start to the day.
I had tried strawberry smoothies in the past, but they never appealed to me. I have been having a bit of an obsession with honey as a sweetener lately, so I added a tablespoon of honey to the strawberry smoothie. That little addition made all of the difference. (Surprise!) Now, strawberry smoothies are my current favorites. Since strawberries are high in Vitamin C/a great source of antioxidants and low in calories, I am happy that strawberry smoothies are now one of my smoothie staples. Enjoy!

Strawberry Smoothie Surprise
Yield: 1 -2 servings
Ingredients:
1 cup of orange juice
1 tbsp honey
1 cup of strawberries
1 cup of ice
Directions:

1. Place all of the ingredients into the blender.
2. Put the top on the blender and mix the ingredients together for 10 – 15 seconds/until it reaches your desired consistency.
3. Pour the mixture in a cup and enjoy!
Recipe Notes:
-If you use frozen strawberries (just pop them in the freezer the night before), it will make a thicker smoothie. That's my preference.
-This recipe actually makes (2) 1 cup servings, so it is enough to share with someone else.

You might also like:
–Green Smoothie Recipe: Spinach Smoothie
–Tropical Smoothie Recipe: Pineapple Mango Smoothie
–Triple berry, blueberry and watermelon summer smoothie recipes