How do you prepare steak? I want to share my "go-to" bacon-wrapped steak recipe today.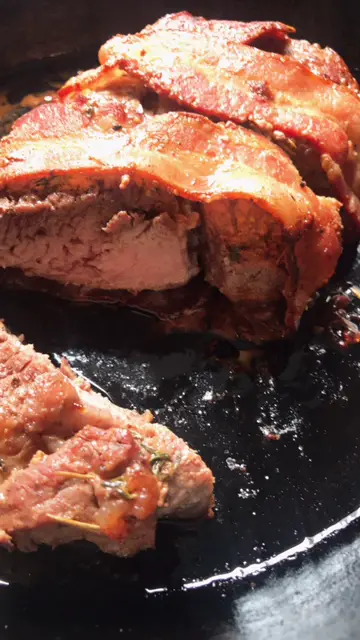 Sometimes we have cook-offs in my home. This summer we had a ribeye steak challenge.
-My husband Reggie grilled his steak on the Foreman grill.

-My son Sean made his ribeye in a cast-iron skillet.

-I sometimes cook my steak in the cast-iron skillet. I started it off in a regular pan this time though.

I'm not a huge steak fan, so when I do prepare steak, it has to be very well seasoned. That is why I use seasonings (rosemary, thyme, sea salt and coarsely ground pepper) and wrap the ribeye steak in bacon strips. The combination helps the steak to be really flavorful.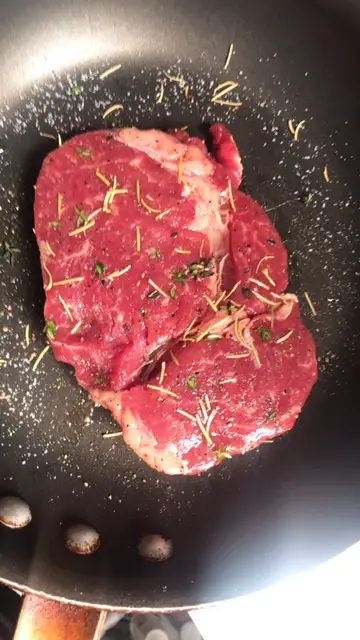 Bacon-Wrapped Steak
Simple Bacon-Wrapped Ribeye Steak
One Serving

Ingredients:
(1) 10-oz ribeye steak
Preferred seasonings (I use rosemary, thyme, sea salt and coarsely ground black pepper.)
2 strips of uncooked bacon
Directions:
Preheat the oven to 400 degrees Fahrenheit.
Liberally season the ribeye steak.
Wrap the seasoned steak in 2 strips of bacon. Over a medium heat, cook the bacon-wrapped steak in an ungreased pan or cast-iron skillet for 6 minutes (3 minutes on each side) on the stovetop.
Place the pan in the oven to finish cooking it.*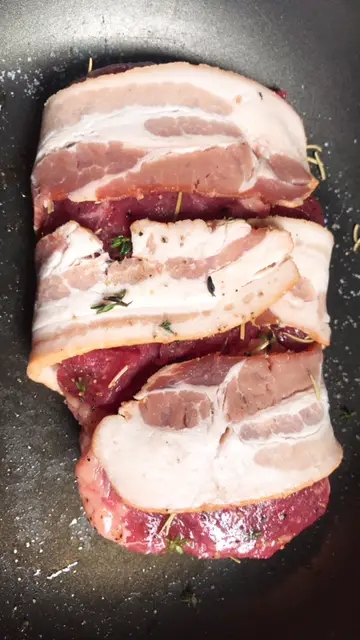 Bacon-Wrapped Ribeye Notes
-*I like my bacon-wrapped steak well-done so I leave it in the oven for 15 minutes.

-I serve my ribeye steak with mashed potatoes and asparagus. It's the perfect trio!
Now that you know how to cook bacon-wrapped steak in the oven, what are you waiting for?
If you found this recipe helpful, please share it.