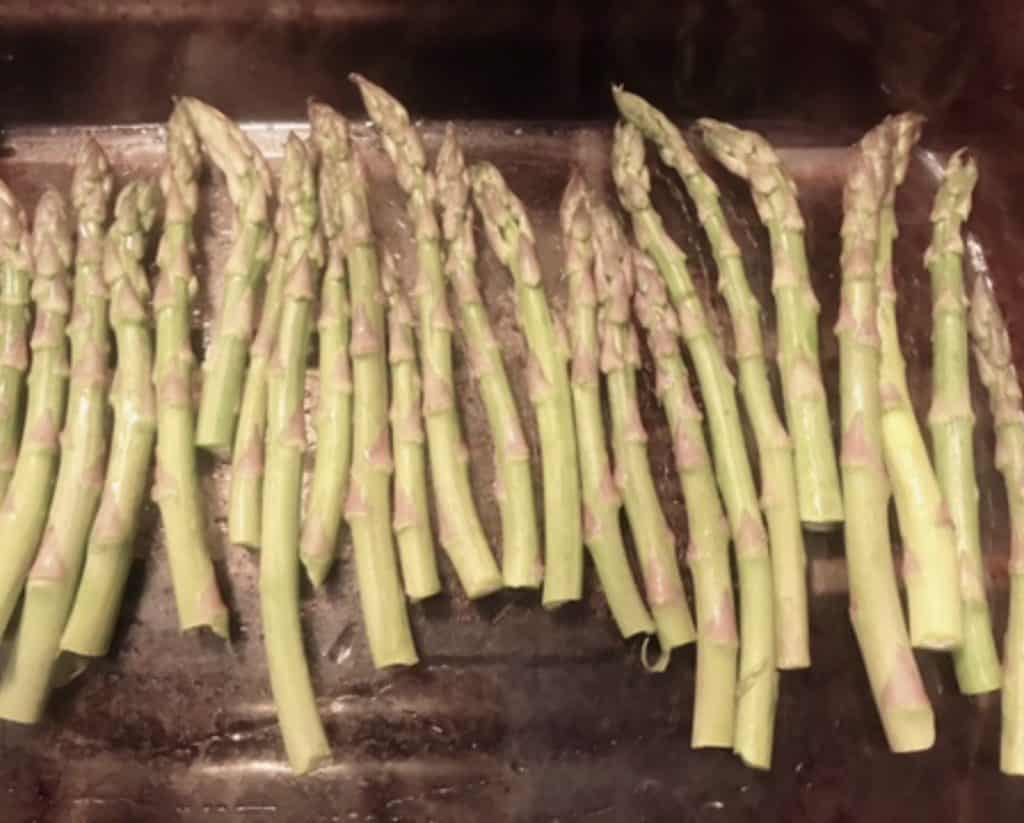 After a friend requested asparagus as part of a meal that I was delivering to her family, I learned how to prepare a roasted asparagus recipe. To my pleasant surprise, it's really simple to make. It has now become one of my family's favorite vegetables so I want to share my easy roasted asparagus recipe with you.
When I initially prepared the asparagus for my friend, I made it on our George Foreman grill. I drizzled olive oil on the asparagus; sprinkled salt, pepper and garlic powder on it and grilled it for 5 to 7 minutes. It was simple and tasty. I included lemon and Parmesan cheese in the meal package since I read that both went well with asparagus. (They do!)
While asparagus on the grill was great, I wanted to be able to make more asparagus at the same time. My oven roasted asparagus recipe is practically the same as my roasted broccoli recipe*. I drizzle olive oil over the asparagus; add my preferred seasonings and put it in the oven. The great thing about the asparagus though is that I don't even need to turn it over.

*I just realized that I haven't shared my broccoli recipe here on MitC. It was my favorite new Thanksgiving side dish last year, so I'll definitely share it later this week! Meanwhile, the roasted asparagus recipe is below.
Easy Roasted Asparagus Recipe
Roasted Asparagus
Yields: 4 servings
Ingredients
2 bunches of asparagus, trimmed (We prefer the medium-sized stalks.)
2 tbsp olive oil
1/2 tsp sea salt
1/4 tsp black pepper
(Optional) Freshly grated Parmesan cheese
(Optional) Lemon wedges to serve with the asparagus
Directions
1. Preheat the oven to 425°F.
2. Wash and dry the asparagus. (If you don't know how to clean or trim asparagus, tips #4 and #5 of Taste of Home's 9 Tips for Cooking Great-Tasting Asparagus are helpful.)
3. Spread the asparagus in a single layer on a rimmed baking sheet lined with aluminum foil.
4. Drizzle the olive oil over the asparagus. Sprinkle with salt and pepper. (I sometimes include garlic powder or thyme as additional seasonings.)
5. Bake for 10 -15 minutes before removing from the oven. (I check at the 10-minute mark to see if they are at my desired texture.)
That's really all there is to it. I like to serve the asparagus with lemon wedges and Parmesan. That's probably why I cook asparagus on "salmon" nights. Salmon, mashed potatoes and asparagus are now in our regular meal rotations!
You Might Also Like