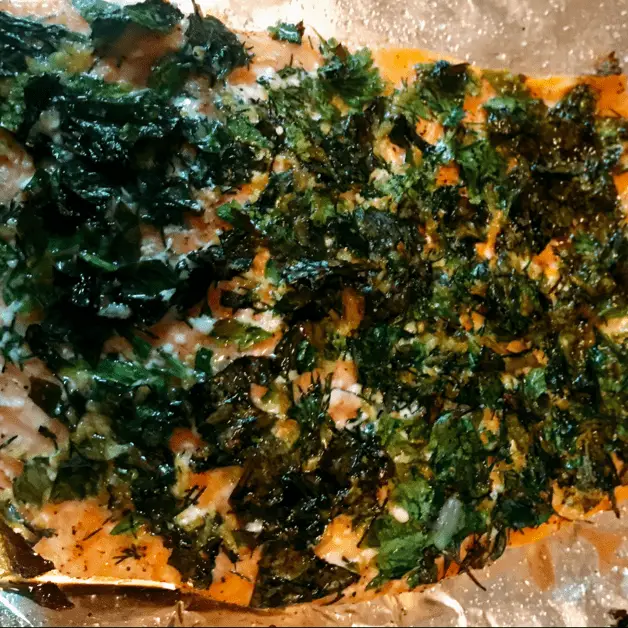 Recently, we had a friend over for dinner who primarily eats fish. My husband and sons don't really like fish that much so I don't cook it a lot. I enjoy it though so it was a good excuse to come up with a good salmon recipe.

I checked some of my "go-to" recipe sites and ended up merging recipes from The Kitchn, Delish and NYT Cooking along with herbs that go well with salmon. The resulting easy oven baked salmon fillet recipe was a hit – with both our guest and "my guys". (When everyone asks for seconds, that's the mark of a good recipe!)
Baked Salmon Fillet Recipe
Herb Crusted Salmon

Ingredients:
1 lb skin-on salmon fillet (remove pin bones)
Olive oil
Salt
Pepper
1 tbsp lemon zest
Lemon wedges
Herb Mixture
1 tbsp olive oil
2 tbsp minced parsley
2 tbsp minced basil
1 tbsp dill
Directions:
1. Take the salmon out of the refrigerator a 1/2 hour before preparing.

2. Prepare the herb mixture by mixing everything together in a small bowl.

3. Preheat the oven to  350°F.

4. Pat the (room temperature) salmon dry with a paper towel.

5. Generously coat the salmon with the olive oil, salt and pepper.

6. Place the salmon skin-side down on an aluminum foil-lined large baking sheet. (Place the lemon zest on the bottom of the salmon and the herb mixture on the top of the salmon.)

7. Bake the salmon for 12-15 minutes (4-6 minutes per 1/2 inch of thickness). The salmon should easily flake with a fork when it's done.

Sprinkle with salt right before serving and serve with the lemon wedges.
This baked salmon fillet recipe was so popular that my youngest son (the most "selective" eater in our home) asked for it again multiple times. If you are looking for a good salmon recipe, definitely try this one! (I served it with a
pasta and vegetable dish
so it was a healthy, tasty meal.)