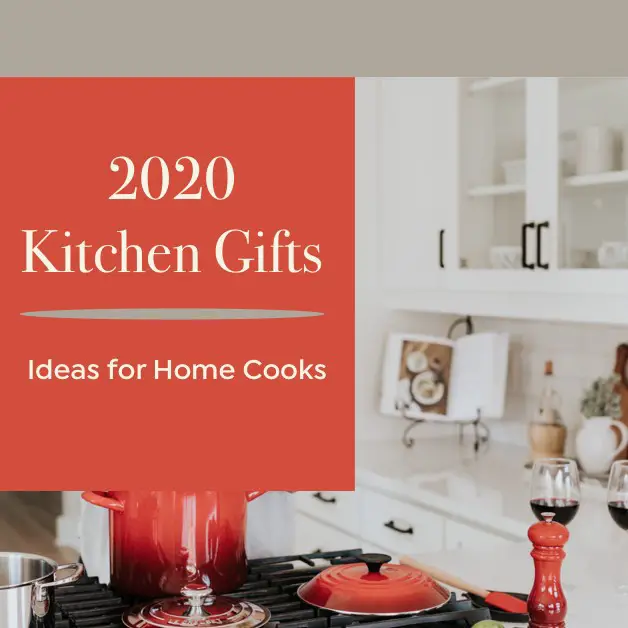 I have spent more time in the kitchen in 2020 than in previous years. I actually "wore out" some kitchen staples this year! That is why I'm sharing favorite kitchen gift ideas for fellow home cooks.
1. Purchased in 2020
Back in March, our oven stopped baking for more than 30 minutes. I didn't feel comfortable having someone come into our home to fix it until October so I improvised. We bought a new slow-cooker and a Foreman grill and we were able to get along just fine with them and our microwave. (Thankfully, the oven burners were working well!)

When the oven was fixed, I needed to get more oven mitts and pot holders. A couple of fry pans also needed to be replaced. Kitchen appliances, pots and pans and kitchen accessories are all great kitchen gift ideas ONLY IF the recipient requests them. (I don't like giving kitchen & home gifts unless they are decorative items or specific requests. Otherwise, the recipient might see it as gifting them MORE work!)
2. Favorite Past Gifts
I have received several memorable kitchen gifts over the years. Some (like a cast iron skillet and my Dutch oven) were from friends and family members. Others – like my favorite lasagna dish (which I shattered this year!) and blender – were work-related ones.

Kitchen gifts don't need to be large to be memorable though. I still think of Tyler Florence when I use the wooden salad servers from the gift bag at his event. I also think of Jennie when I use the KitchenAid spoon spatula from her event. Small gifts can be special!
3. Unique Gifts
I really like to take note of what people mention that they want or need throughout the year. I listen to what friends and family members mention in conversation…as well as what they post on social media. Those things often end up being the best gifts.

For instance…if my husband reads this post and wants to encourage me, he could get the following:
4. Other Moms Want
Every year, there are items that moms talk about a lot. Air fryers, Instant Pots and bread makers are all really popular items in 2020.
5. Cookbooks
There's a cookbook for practically every home cook out there! Below are a some titles to consider:
I hope that these kitchen gift ideas have helped you to come up with some holiday plans for loved ones!