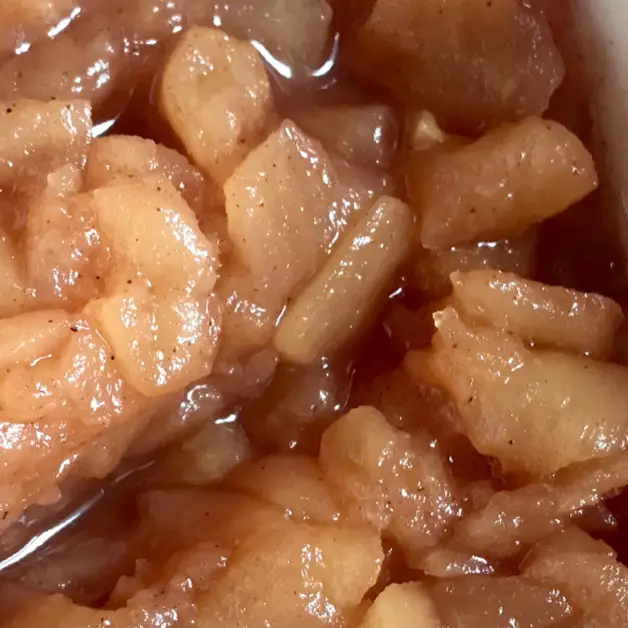 My family went on our annual apple picking in New York day trip to DuBois Farms a couple of weekends ago. After making the ONE apple pie that I bake each year during apple season, I had four apples left. Since my husband Reggie loves applesauce, I decided to make an easy homemade chunky applesauce recipe.
If I don't have an easy recipe for an item, I think of the person who makes the best version of the dish. When it comes to old-fashioned applesauce, Reggie's Aunt Bertha makes the best applesauce. Fortunately, when I asked her how to make chunky applesauce, she gave me simple stovetop directions.
Aunty's original homemade apple sauce instructions were "Cut up the apples in little pieces. Add some cinnamon and sugar (white sugar or brown sugar). Put some water in the pan to the level of the apples. Boil the apples first and then simmer them on low, stirring occasionally." The main thing that she emphasized was "SIMMER. SIMMER. SIMMER."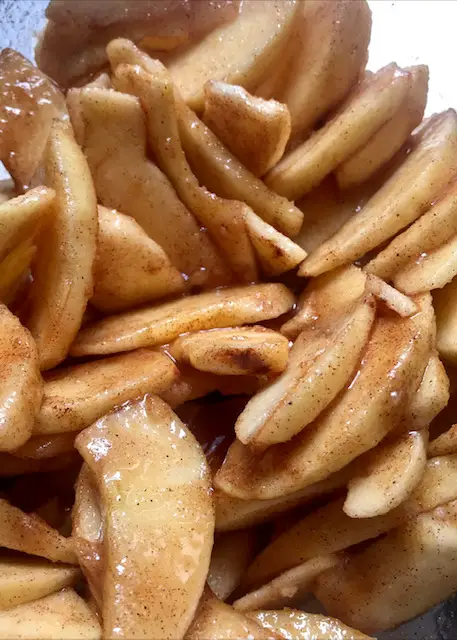 The thing about getting a simple recipe from previous generations (parents, aunties, etc.) is that you just have to ask clarifying questions. To get a more exact measurement, I asked questions like, "How do you cut up the apples?" (Slim slices instead of apple chunks) "How much cinnamon should I add?" (1/2 teaspoon) "How much sugar should I add?" (1/2 cup) "How much water should I add?" (Enough to just cover the apples) "Do I cover the simmering apples?" (Yes) "How long do I simmer the apples?" (One hour)
Once I understood the basics of the old-fashioned "low and slow" chunky applesauce recipe, I adapted it to my family's tastes. I simply added a few things (a little bit of pumpkin spice, fresh lemon juice and vanilla) to make the applesauce taste more like our favorite apple pie filling. I think that your family will enjoy this great recipe too.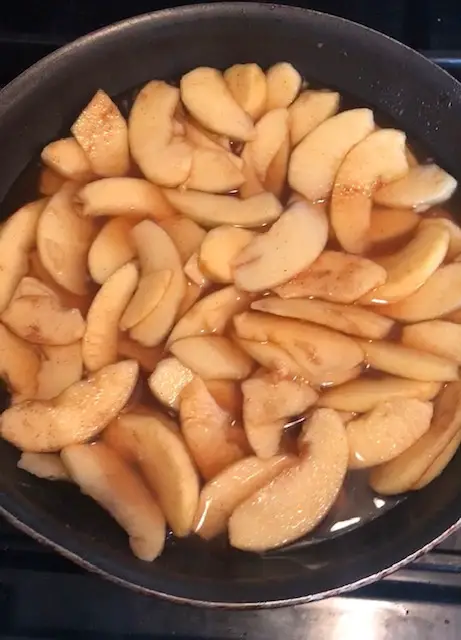 Homemade Chunky Applesauce Recipe
Aunt Beulah's "Low and Slow" Stovetop Applesauce
Ingredients:
4 apples (I like to use different apple varieties – Gala, Red Delicious, Golden Delicious, and Cortland apples.*)
1 tsp fresh lemon juice
1/4 cup packed light brown sugar
1/4 cup granulated sugar
1 tsp real vanilla extract
1/2 tsp ground cinnamon
1/2 tsp pumpkin pie spice
(Optional) Extra cinnamon (for sprinkling on top of the applesauce)
Directions:
Peel, core and slice the apples into thin slices.
Mix the apples, lemon juice, sugars, vanilla, cinnamon and pumpkin pie spice together in a large bowl. (Then, let the mixture sit for a few minutes. Taste it to see if you should add an additional amount of sugar or spices to get it to your desired flavor level. You can always add a bit more flavor based on the number and natural sweetness of the apples used.)
Place the apple filling into a pan.
Add enough water to cover the apples. (It was 2 cups of water for me.)
Bring the apples to a boil over medium-high heat.
Cover the pan and reduce the heat to low.
Let the apples simmer (uncovering occasionally to stir) for an hour before removing from the stovetop.
Recipe Notes
-* McIntosh apples, Fuji apples, Granny Smith apples and Honeycrisp apples are other great options.

– You can use any medium or large saucepan that you have.

That's really all there is to it. Aunty likes to let the applesauce keep the thin apple slices shape. I like chunky applesauce though so I take the apples out of the remaining liquid and use a potato masher for the chunky texture. (If you like smooth applesauce, a great way to get that texture is with a food processor or immersion blender.)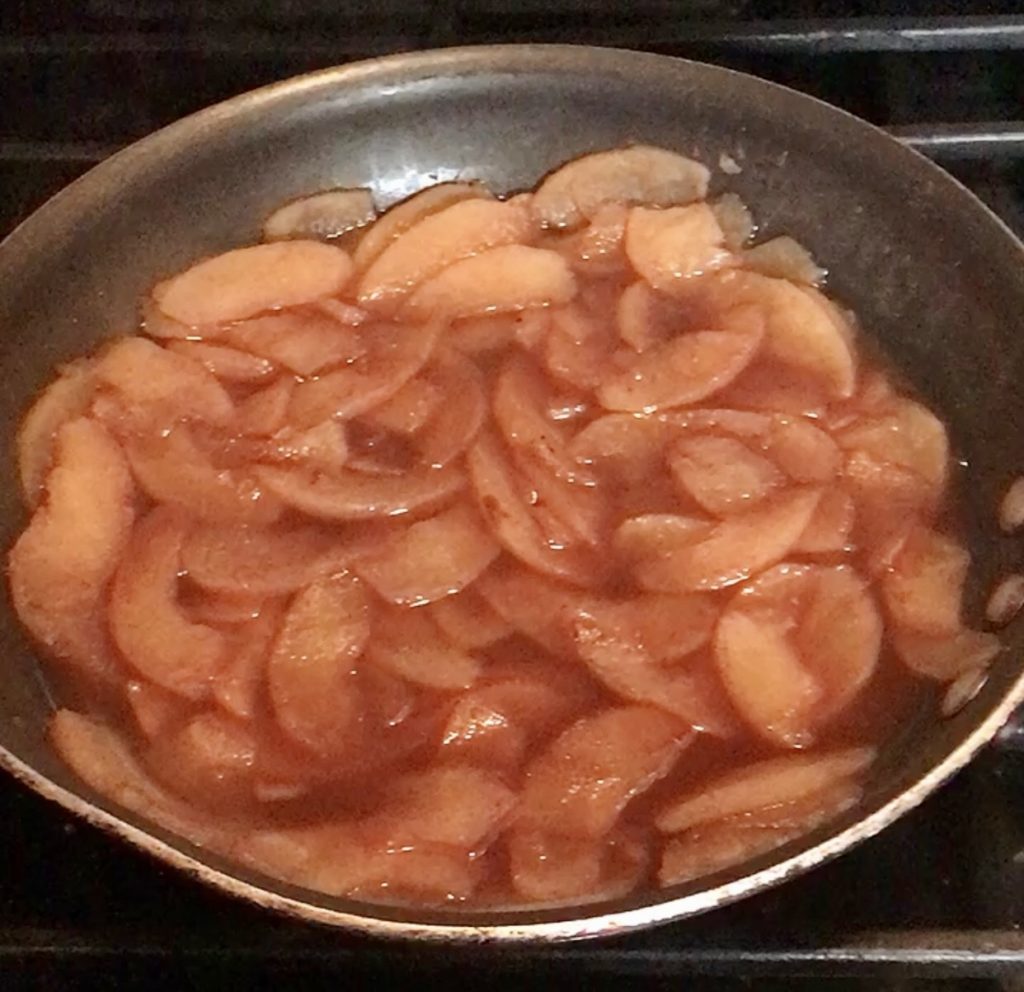 My family really enjoyed this easy homemade applesauce recipe and this sweet applesauce quickly became a family favorite. In theory, it would make a delicious side dish – especially served with pork. It was gobbled up too quickly in reality though!

In my family's defense, the apples really simmer down/don't make as much applesauce as I thought that they would. It's much better than the applesauce bought in grocery stores so I'll keep this in my 'special apple recipes" file.
If you found this recipe helpful, please share it. In addition, consider signing up for my weekly email newsletter so that you don't miss future updates. Thanks!