For Day 21 of the"A Dessert a Day 'Til Christmas 2021″ series, I'm resharing an easy apple cobbler recipe that I made for my friend Shari's "Bake it Happen" charitable initiative.
I have a friend named Shari whom I met through blogging. She is a warm, kind person who cares about people. As we say in my family, "You can tell that she was raised well." Shari has a food blog called My Judy the Foodie, which is inspired by her late mother who was a wonderful home cook.
Shari's love for her late mom is palpable. I "get" it. I almost lost my mom last year when she had two heart attacks and the mere thought of not having her in this world brings me to tears a year later. Nothing can replace a (good) mother. I love that Shari has chosen to honor her mom in many ways.

Not only did Shari start the blog but she and her sister Stacy have also developed a clever marketing campaign for breast cancer research called Bake it Happen in memory of their late mother. (Judy passed away of breast cancer.) They are "carrying on Judy's culinary legacy and legacy of hope for a cure for breast cancer".

This is the 3rd annual Bake it Happen and I am promoting this campaign for three reasons. 1. I like Shari. 2. I appreciate when a child honors their parents. 3. Breast cancer destroys families and needs to be eradicated.
5 Bake it Happen Highlights
1. From September 28th-October 30th you can log on to Bake it Happen to sign up to receive 3 of Judy's famous recipes: Pumpkin Oatmeal Chip Cookies, Judy's Earthquake Cookies or Judy's Black Bottom Cupcakes.

2. When you bake one of the special recipes, share the dessert with your friends and families. Baking is love!
3. Upload photos of your baked goods to the Bake it Happen Facebook page or email address ([email protected]). $2 will be donated to the Pink Pumpkin Patch Foundation every time that you post or email a Bake it Happen photo.
4. As an added incentive, you are entered to win an iPad Mini AND 100 Baked By Melissa Cupcakes each time you upload a baking photo. (I was going to say "forget it" if I won because I'm just doing this to support Shari. However, those cupcakes are a game-changer. Did you read yesterday's post which mentioned how AMAZING those mini Baked By Melissa cupcakes are? I want them in my tummy!)
5. 100% of the money generated from this campaign will be donated to the Pink Pumpkin Patch Foundation to be used for breast cancer research grants. Through the Foundation, American pumpkin growers give a percentage of proceeds from every pink pumpkin that they sell this year to organizations involved in breast cancer research.

So far in 2015, the Bake it Happen campaign donated  $1,200+ to the Foundation which in turn granted Dr. Eva McGhee of Charles R. Drew University of Medicine and Science $15,000 to further her genomic research.
This is a super-easy way to raise money for a great cause. They aren't asking you for money or even asking you to host a bake sale.  They are only requesting that you bake something (preferably one of Judy's 3 recipes) and share it with your family and friends before the end of the month. Won't you please join in?
Baking is not my favorite thing to do, but I believe that baking is an act of love. Like Judy, I bake dishes that my family enjoys. My husband Reggie and oldest son Michael primarily like apple desserts and brownies while my youngest son Sean likes apple desserts and lemon meringue pie.
We went apple picking last week, so I made an apple cobbler last night with the leftover apples. I usually make an apple pie after our annual farm outing but my baker friend Felicia just gifted my guys an apple pie last week. They loved the apple cobbler, so I'll share the recipe below. (Save it for next month though and make one of Judy's desserts this month and support Bake It Happen!)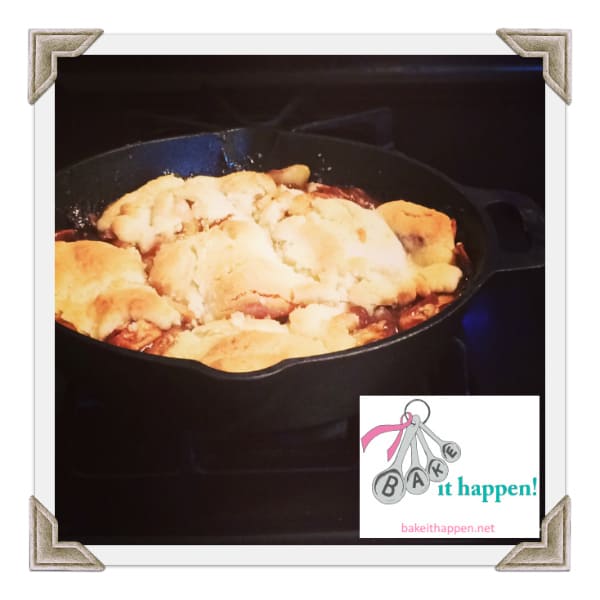 Easy Apple Cobbler Recipe
Easy Apple Cobbler Recipe

Serves 6-8
Ingredients
Filling
3-4 lbs apples (I used a combination of Gala, Red Delicious, Golden Delicious and Cortland apples.)
2 tsp fresh lemon juice
3/4 cup packed light brown sugar
1/4 cup granulated sugar
1 tsp real vanilla extract
1 tsp ground cinnamon
1 tsp pumpkin pie spice (It can be hard to find, so I make my own with this CDKitchen recipe.)
1/4 cup all-purpose flour
Topping
1 cup all-purpose flour
1 cup sugar
1/12 tsp salt
1 stick butter, melted – warm but not very hot
Instructions
1. Preheat the oven to 375ºF.
2. Lightly butter the bottom of the skillet.
3. Peel, core and slice the apples.
4. Mix everything for the apple filling (except for the flour) together in a large bowl.
5. Once the apples are at your preferred taste level, add the 1/4 cup flour to the mixture in order to thicken the cobbler filling. Add the filling to the skillet.
6. Prepare the topping.
7. Whisk together the flour, sugar, and salt in a bowl.
8. Mix the warm, melted butter into the flour and sugar to form a crumbly dough.
9. Pat handfuls of dough into thick palm-sized disks and lay the disks over the apples. (You can see my peach cobbler images.)
10. Crumble any extra topping and sprinkle it on top of the cobbler.
11. Place the skillet in the oven and bake uncovered for 45 minutes.
12. Cool and serve.
Tips
-Warm cobbler is especially good with a scoop of vanilla ice cream.
-To warm up the cobbler after it has been in the refrigerator, bake it in the oven at 350ºF for approximately 5-8 minutes.

If you found this recipe helpful, please share it. Thanks!
You Might Also Like
{This post has been updated and republished. This recipe was originally posted on October 15, 2015.}