August is National Peach Month so I asked my sons if they would like to learn how to make a peach dish for our weekly summer cooking classes. They decided that they wanted to learn how to make an easy fresh peach cobbler recipe.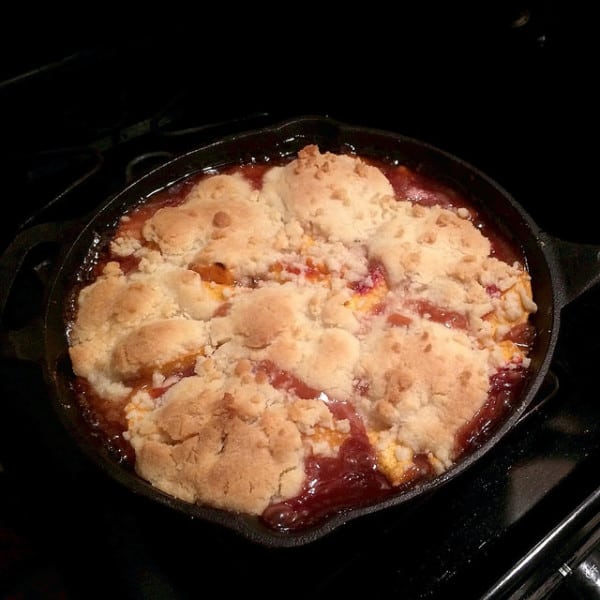 The only problem was that I had never made a peach cobbler…and none of my good friends had a favorite recipe. The only peach cobbler that I remember eating was almost two decades ago – when I was a waitress at Sylviaś Restaurant in Harlem during college.
In the absence of a good recipe, I put on my ¨researcher¨ hat. Since I already had a filling recipe that I liked (from my baker friend Feliciaś ¨Peach Crisp" recipe), the topping was my biggest concern.
I finally settled on one from The Kitchn ¨a topping that is equal parts cookie and pie crust¨. I added a bit of flour to thicken up the filling (from my apple pie recipe) and checked how to make it in my cast iron skillet because I thought that it would look pretty prepared in that manner.

It came together perfectly. Even my husband Reggie (who normally only really loves apple pie as dessert) wanted seconds. Since my family and our guests ate the cobbler so quickly, I made another one just to make sure that I hadn't experienced ¨beginner's luck¨. I had not. This is now my ¨go to" recipe for peach cobbler. Enjoy!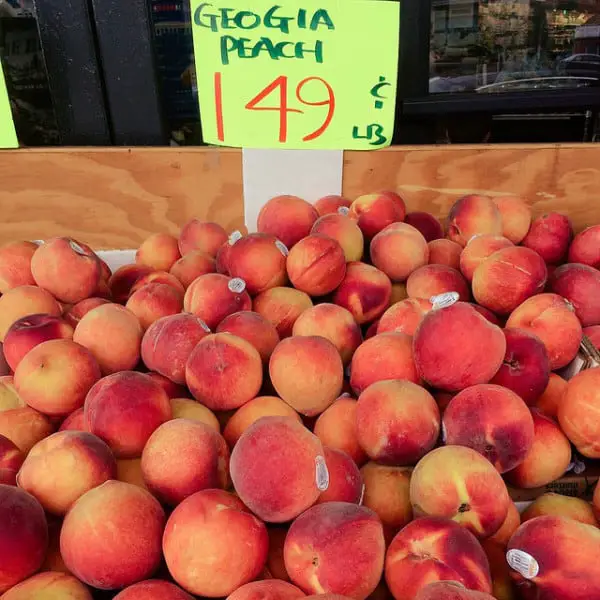 Easy Fresh Peach Cobbler Recipe
Easy Fresh Peach Cobbler Recipe

Serves 6-8
Ingredients
Filling
3 – 4 lbs. fresh peaches (Georgia peaches if you can find them)
1/2 cup granulated white sugar
1/2 cup dark brown sugar
1/4 tsp salt
1/8 tsp nutmeg
1/8 tsp ginger
3/4 tsp cinnamon
1/4 cup all-purpose flour
Topping
1 cup all-purpose flour
1 cup sugar
1/12 tsp salt
1 stick butter, melted – warm but not very hot
Instructions
1. Preheat the oven to 375ºF.
2. Lightly butter the bottom of the skillet.
3. Peel, core and slice the peaches. (I followed Feliciaś tip to set the peaches in boiling water for five minutes. I then peeled the peaches while having them immersed in cold water.)
4. Mix everything for the peach filling (except for the flour) together in a large bowl.
5. Once the peaches are at your preferred taste level, add the 1/4 cup flour to the mixture in order to thicken the cobbler filling. Add the filling to the skillet.
6. Prepare the topping.
7. Whisk together the flour, sugar, and salt in a bowl.
8. Mix the warm, melted butter into the flour and sugar to form a crumbly dough.
9. Pat handfuls of dough into thick palm-sized disks and lay the disks over the peaches. (See images.)
10. Crumble any extra topping and sprinkle it on top of the cobbler.
11. Place the skillet in the oven and bake uncovered for 45 minutes.
12. Cool and serve.

Recipe Notes
*Warm cobbler is especially good with a scoop of vanilla ice cream.
* To warm up the cobbler after it has been in the refrigerator, bake it in the oven at 350ºF for approximately 5-8 minutes.
If you found this recipe helpful, please share it. Thanks!
Referenced Posts: