I have owed Michael a lemon meringue pie since last July. Michael did not get as much of the results of the first lemon meringue pie recipe that I had made in July like everyone else in the family, so I promised that I would make him one. Thankfully, this easy lemon meringue pie recipe allowed me to keep my promise.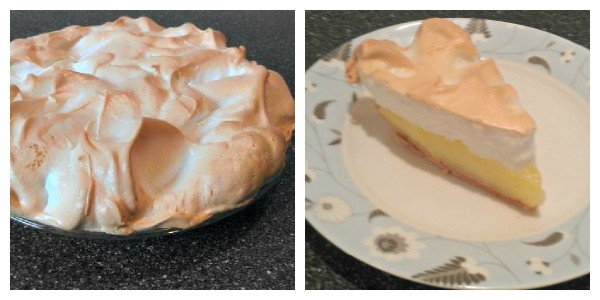 While I was pleased with the other lemon meringue pie, it was just too much work. When Michael recently mentioned that he wanted "his" pie before the end of the summer break, I tried to talk him out of it by offering him something else. I was *this* close to getting him to change his mind until he called in his lawyer (also known as my husband Reggie). Oh well…
Reggie advised me to just buy a pre-made lemon pie filling. I considered that option but felt that would be a cop-out. Pre-made pie crust? Yes. Pre-made filling? No. (I know…my standards are arbitrary.)
Anyway, I ended up merging three different recipes – my previous one, the one from the back of the Bob's Red Mill cornstarch that I had bought and the food.com "Ultimate Lemon Meringue Pie" recipe. This time, it was relatively easy to make the lemon meringue pie. Even better…all of my guys loved it.

My husband now has a new favorite lemon meringue pie. As for me, I now have three pies that I feel confident making any day…apple, sweet potato, and lemon meringue. Best of all, I kept my promise to my little one who has never forgotten a promise that I have made to him…ever!
Easy Lemon Meringue Pie Recipe with Graham Cracker Crust

Simple Lemon Meringue Pie
Yield: 1 pie
Ingredients:

Lemon Filling
1 (9-inch) pre-baked pie shell (I used a graham cracker one.)
1 cup sugar
¼ cup cornstarch
1/8 tsp salt
1 ½ cup water
3 extra large egg yolks
1 tbsp finely grated lemon zest (3 lemons)
1/3 cup lemon juice
1 tbsp unsalted butter, room temperature
Meringue
3 extra large egg whites, room temperature
1/4 tsp cream of tartar
½ cup sugar
Cooking Directions
Preheat the oven to 350 degrees F. (The oven rack should be in the middle position.)
For the lemon filling: Combine the sugar, cornstarch and salt in a medium saucepan. Slowly add in the water, stirring it until the mixture is smooth. Stir in the egg yolks.
Place the saucepan over a medium heat and bring the mixture to a boil while constantly stirring. Once it reaches a boiling point, allow it to boil for one additional minute.
Remove the saucepan from the heat and stir in the next three ingredients.
Spoon the hot lemon filling into the pie shell.
For the meringue: Put the 3 egg whites and cream of tartar into a large bowl.
Using an electric mixer fitted with a whisk attachment, beat the egg whites on a high speed ("5″) until frothy peaks form.
With the mixer still running, slowly add the sugar and continue beating the mixture until the meringue is thick (two to five minutes).
Dollop the meringue completely over the filling in the pie shell. Make sure that the meringue covers the filling and touches/seals to the edges of the pie shell crust.
Bake the pie until the meringue is golden brown (15 to 20 minutes).
Remove the pie from the oven and cool it to room temperature (approximately 1 hour) on a wire rack.
Place the pie in a refrigerator until it is completely chilled (approximately 3 hours) before slicing and serving.

(P.S. Although I don't especially focus on making healthy desserts, I appreciate the fact that this easy lemon meringue pie recipe version has less sugar, butter, and eggs than the previous one.)
If you found this recipe helpful, please share it. Thanks!
You Might Also Like
{This post has been updated and republished. This recipe was originally posted on August 5, 2012.}