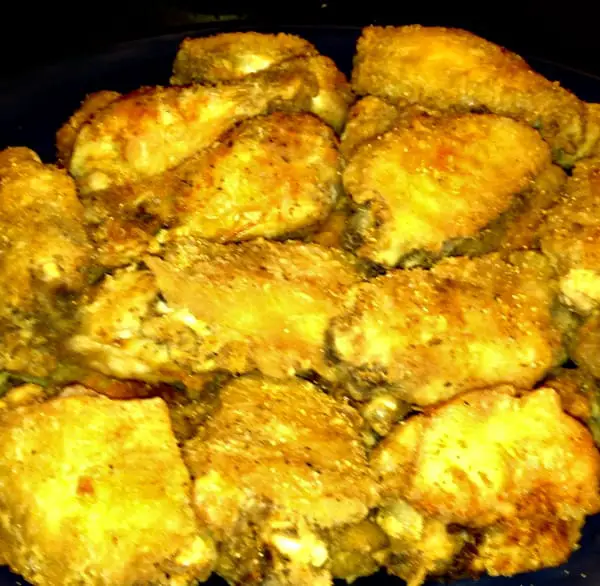 We had a "women-only" gathering at our church last night in honor of Women's History Month. After a short message on the book of Ruth, we enjoyed a potluck meal. The potluck featured International Women's Day recipes so everyone brought dishes from their home country. Since I was born and raised in the south, I brought a southern comfort dish.
I was torn between preparing four different traditional southern dishes – deviled eggs, fried chicken, barbecue meatloaf and macaroni and cheese. Each option is tasty and easy to make, but I decided to go with fried chicken so that I could cut it up in small pieces for more people to get a taste. The chicken was a hit, so you can find my simple southern fried chicken wings recipe below:
Simple Southern Fried Chicken Wings Recipe
Ingredients
1 1b chicken wings, cut into pieces
2 cups all-purpose flour
Oil for frying (Some people swear by Crisco, lard or peanut oil, but I just use vegetable oil.)
Seasoned salt and black pepper
Instructions
Season the raw chicken pieces on both sides
Cover the seasoned chicken with flour. (I place flour in a bag and shake a few pieces of chicken in it at a time until they are thoroughly covered with flour.)
Season the floured chicken pieces on both sides.
Fill a frying pan ½ way with the oil and heat it over a medium flame. (You will know that the oil is ready for frying the chicken when you can "bounce" a couple of drops of water off it.)
Using tongs, place the chicken in the oil and allow it to fry for 10 minutes over a medium heat. Turn the chicken over and fry it for another 10 minutes on the other side over a medium heat. Cut a slit into the thickest piece of chicken to make sure that it is thoroughly cooked. (Bloody fried chicken is the worst!)*
When the chicken is finished frying, place it on a plate covered with paper napkins. (The napkins will absorb the excess oil, so that the fried chicken won't be "greasy".
*The length of time that you fry your chicken depends on how soft or crisp your family enjoys it.
If you were asked to bring a dish representing your culture to a potluck, what would you bring?