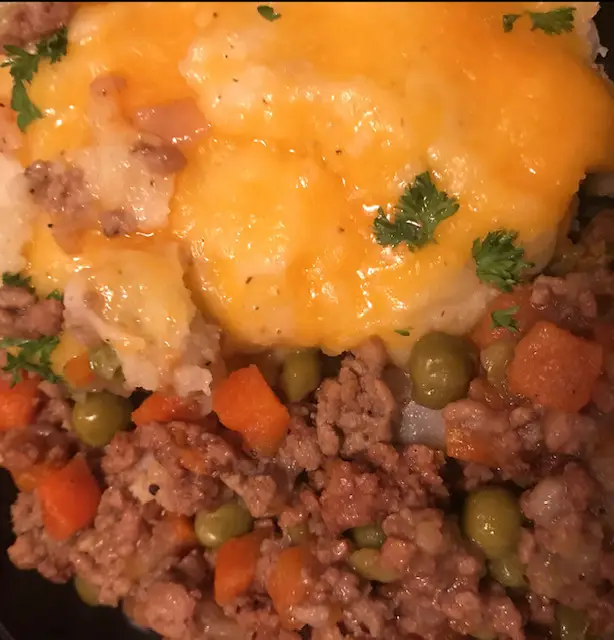 Readers have recently been searching for a Shepherd's pie recipe so I'm sharing this easy shepherd's pie recipe again.

Since I posted this recipe back in 2016, I have learned that there is an English shepherd's pie and there is an American one. The British one is usually made with lamb. They would call the version that I make "Cottage Pie" since I make it with ground beef. Whatever you want to call it, many southern people prepare this dish that both adults and kids like to eat.
In my mashed potatoes recipe post, I mentioned the shepherd's pie that I prepared for a British-themed potluck party. Today, I'm sharing the actual easy shepherd's pie recipe. I have dubbed it "Savory Shepherd's Pie" because of a conversation at the party. One of my friends said, "Oh, I like this. It's very savory." I'll take it!
When I decided to make a shepherd's pie, I went to the online home of one of my favorite British-themed places in New York City, Tea & Sympathy. I love afternoon tea and they have one of the best services in the city along with other main dishes. I looked on their catering menu to see what they included in their version. Their beef shepherd's pie is served with peas and carrots with mashed potatoes as the pie crust, so that is how I made mine.
To come up with this easy shepherd's pie recipe, I looked at a *few recipes to see what was consistent across the board (Worcestershire sauce and beef broth or stock) and then just went to work. Here's what I came up with…
Easy Shepherd's Pie Recipe
Savory Shepherd's Pie
Serving Size: 4
Ingredients
2 cups mashed potatoes
1/2 onion, chopped
1/2 cup carrots, diced
1 pound ground beef
Seasoned salt, freshly ground black pepper (and your other desired beef seasonings)
1/2 cup frozen peas
2 splashes Worcestershire sauce
1/4 cup beef broth
Optional: grated cheddar cheese to sprinkle on top
Instructions
Preheat the oven to 400 degrees. As you are softening the potatoes in the microwave, prepare the vegetables and beef.
In a large frying pan, cook the onions and carrots together over low heat until they are softened (approximately 3 – 5 minutes). Put the vegetables aside in a large bowl.
Then, use the frying pan to brown the beef over medium heat. (I use seasoned salt, freshly ground black pepper, and ½ a pack of dry onion soup mix to season my ground beef.) Drain the extra liquid from the beef.
Add the onions and carrots back to the frying pan with the beef. Next, add the peas and mix everything together well. Then, add the Worcestershire sauce and beef broth to the mixture along with another light sprinkling of salt and pepper. Let everything simmer together in the pan over low heat for a few minutes.
Place the contents of the frying pan into a glass casserole dish. (I used a glass 8 x 8 one.) Cover the beef and veggies with an even coat of the mashed potatoes. Be sure to touch all of the edges of the dish with the potatoes. Sprinkle the top of the pie with grated cheese if desired.
Bake the pie for 30 minutes. Then, change the oven's setting to broil and allow the pie to bake for an additional five minutes to brown. Remove the pie from the oven. (You can serve it right away, but it tastes better – in my opinion – if you let it cool to room temperature. It "sets" better.)
Recipe Notes
*You can double the amount of beef broth if you like. Personally, I prefer a drier beef for this particular dish.
*I don't use any type of butter or oil to cook the vegetables or ground beef. They make their own "juice".

**Easy Shepherd's Pie Recipe References: Rachel Ray, Alton Brown, and Simply Recipes
If you found this recipe helpful, please share it. Thanks!
You Might Also Like: