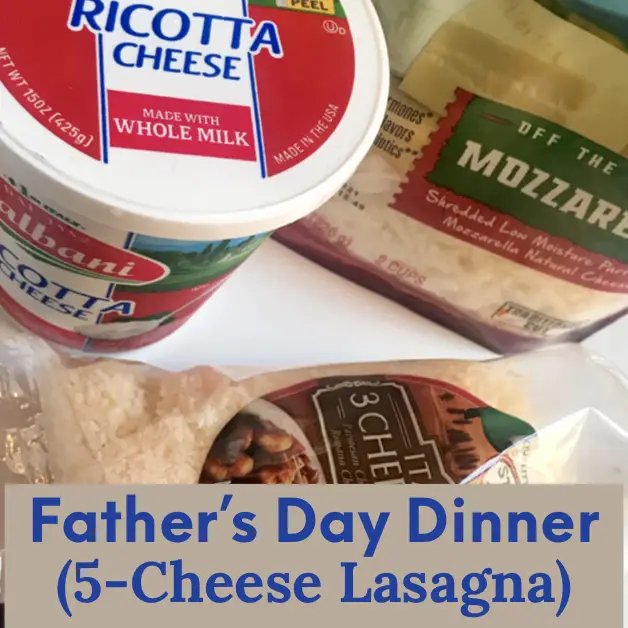 Father's Day is this upcoming Sunday. Do you already have dinner plans? We have tentative plans. If it doesn't rain on Saturday, then my husband Reggie will barbecue over at his dad's house. In addition to the barbecue, I will probably leave a lasagna for the elder Mr. Coleman's actual Father's Day dinner.
Mr. Coleman loves lasagna…almost as much as Garfield. 😊 He especially enjoys a 5-cheese lasagna that I make for him. In addition to the ricotta, mozzarella and Parmesan cheeses that I normally use, I added shredded Asiago and Romano cheeses. It was so good. I think that it would be a wonderful part of a Father's Day dinner for the cheese lover dads in your life.
Lasagna Father's Day Dinner
Easy 5-Cheese Lasagna
Yield: 8 servings
Ingredients:
1 lb lasagna
3 cups marinara sauce
1 lb ground beef (or turkey)
15 oz ricotta cheese
2 cups shredded mozzarella
2 cups shredded 3-cheese blend (Parmesan, Asiago and Romano)
Directions:
Preheat the oven to 375 degrees.
2. Boil the lasagna noodles according to the directions on the package (if you don't make your own).
3. Brown the beef or turkey meat (sprinkled with your favorite seasonings) in a skillet until it is well done. Drain any excess liquid. Place the meat back in the skillet along with your favorite marinara sauce.
4. Lightly coat the bottom of a lasagna pan with a little sauce so that the lasagna noodles won't stick to the bottom of the pan.
5. Place a layer of the lasagna noodles on top of the bit of spaghetti sauce.
6. Spread a layer of ricotta cheese over the lasagna noodles. (It spreads easier if the noodles are dry.)
7. Spread a layer of the meat sauce over the ricotta.
8. Sprinkle a layer of mozzarella and a layer of the 3-cheese blend over the meat sauce.
9. Repeat steps 5 – 8.
10. Cover the lasagna dish with aluminum foil and place it in the oven for 30 minutes.
11. Remove the aluminum foil from the dish and put it back in the oven for 5 more minutes.  It's all ready!
Although there are a lot of steps, this really is a simple dish to make. If you found this recipe helpful, please share it. In addition, consider signing up for my weekly email newsletter so that you don't miss future updates. Thanks!
You Might Also Like: